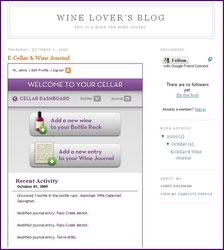 I created CorkSavvy as a great tool for all wine lovers--whether they're just getting interested in the grape or have been longtime aficionados
New York, NY (PRWEB) October 6, 2009
CorkSavvy.com, a leading web site that offers educational resources and interactive tools to help users get savvy about wine, announces the launch today of a "White Label" E-Cellar--a free, customizable version of CorkSavvy's popular virtual wine cellar tool that allows users to quickly catalog and organize wines that they own, like, or wish to buy.
Administrators of other web sites (e.g., media sites, blogs, and winery or retailer web pages) can simply incorporate the HTML for the White Label E-Cellar into their existing formats, and their visitors will have all of the power of CorkSavvy's E-Cellar, while always staying within the "host site."
For a demonstration of how this customizable E-Cellar might fit into a host web site, view the sample E-Cellar Widget. This example of the White Label Cellar is embedded into a standard blogging platform.
Adding CorkSavvy's E-Cellar tool to an existing web site is a great way to attract visitors back to the host site multiple times per day, and what's more, the host site maintains complete control of all advertising. White Label E-Cellar users will experience the host site as they normally do--other sections of the host site, plus ads and promos, are right there for the clicking.
To learn how to incorporate the E-Cellar into your web site, visit the CorkSavvy widget page.
The White Label E-Cellar is so-called because it fits neatly within another site and bears the host site's own branding (if desired), not CorkSavvy's (with the exception of a "Powered by CorkSavvy" icon). Below are a few of the benefits of incorporating the free White Label E-Cellar into a host site:

The E-Cellar can be branded in whatever way best suits the host site's goals.
The host site will maintain complete control of all advertising space, including banner ads.
The E-Cellar dovetails perfectly with wine and/or food content on a host site: The E-Cellar provides another reason for wine lovers to return to the site--to read more (for media sites and blogs) and buy more (for winery and retailer sites).
Simply put, the E-Cellar drives repeat traffic: The added value that the E-Cellar gives to the host site will lead more web users to revisit for reasons beyond the host site's own content--and in turn they are more likely to visit more pages on the host site, generating more potential advertising impressions.
A highly targeted audience to attract advertisers: The E-Cellar will deliver a large but targeted pool of readers/users to potential advertisers. Wine, liquor, glassware, travel, and other advertisers will know they're reaching a key wine-drinking audience when advertising on the host site's E-Cellar pages.
About CorkSavvy
CorkSavvy's founder and Editorial Director, Jill Sloane is a wine writer, wine enthusiast, and graduate of the French Culinary Institute in New York City, where she received both a Culinary Degree and Wine Certificate. She is currently working toward her Certified Sommelier exam with the Court of Master Sommeliers. "I created CorkSavvy as a great tool for all wine lovers--whether they're just getting interested in the grape or have been longtime aficionados," Sloane said. "CorkSavvy is a one-stop destination for everyone who enjoys wine--not to mention, it's free."
Visit CorkSavvy.com to view all of the website's wine resources.
###