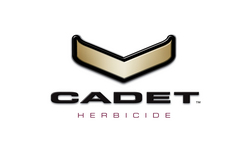 Philadelphia (PRWEB) July 28, 2009
In a recent series of teleconferences, University weed scientists and agronomy experts debated best weed management practices and the growing necessity of a post-emergence herbicide for control of glyphosate-resistant and tolerant weeds. Corn and soybean growers can now download materials from the recent series of AgTelePanels from FMC Corporation and Beck Ag Comm that focused on how to overcome glyphosate-resistant weeds using Cadet® herbicide.
Cadet, a postemergence herbicide with excellent, selective control of tough broadleaf weeds, is the newest addition to the rapidly expanding portfolio of corn and soybean crop protection products offered by FMC.
Studies by the Weed Science Society of America (WSSA) show that seven of the nine confirmed glyphosate-resistant weeds in the U.S. have evolved this trait in just a few short years. In addition, the WSSA reports that more weed biotypes are becoming increasingly tolerant to glyphosate. University experts agree that for growers, having an aggressive, effective resistance management strategy is more important today than ever before.
In these recent teleconferences, University experts and agronomists throughout the Midwest discussed best resistance management practices, including their experiences with Cadet.
Speakers on the teleconferences included:

Dr. Bill Johnson, Professor of Weed Science at Purdue University
Dr. Mike Owen, Associate Chair and Professor of Agronomy at Iowa State University
Dan Rick, Agronomy Manager from Hooppole, Illinois
Luke Kleen, Agronomy Manager from Ruskin, Nebraska
Gail Stratman, FMC Technical Representative and Cadet herbicide Expert
Cadet is a post-emergence herbicide that provides effective control of difficult weeds such as velvetleaf, lambsquarters, morningglory, waterhemp and others. Labeled for use in both corn and soybeans, Cadet is an ideal tank-mix partner with glyphosate or other herbicides for added control. Because it is labeled for use in both corn and soybeans, no tank cleaning is required when moving between herbicide applications in these two crops, which can save growers time and money.
The following materials from the recent teleconferences are now available online:

A .pdf format copy of the handout used during the teleconference, including efficacy data and other technical information on the product
A full-length digital audio recording of one of the teleconference sessions (file size is 4 MB, running time is 36:18 minutes)
Five separate "topic tracks" from the recorded teleconference, including the following topics:
Intros - 215 KB/ 1:50 minutes
Weed Control Strategies - 1.5 MB/12:21 minutes
Cadet Efficacy - 2 MB/17:13 minutes
Cadet Value - 335 KB/2:51 minutes
Panelists Summary Comments - 262 KB/2:14 minutes
Cadet enhances broadleaf control without increasing glyphosate rates on Roundup Ready® corn and soybeans. An excellent tank-mix with atrazine, dicamba products, Callisto® and Impact®, Cadet is a cost-effective addition to improve overall herbicide program performance.
For more information about the entire portfolio of crop protection products from FMC, please visit FMCcrop.com.
About FMC
FMC Corporation is a diversified chemical company serving agricultural, industrial and consumer markets globally for more than a century with innovative solutions, applications and quality products. The company employs approximately 5,000 people throughout the world. The company operates its businesses in three segments: Agricultural Products, Specialty Chemicals and Industrial Chemicals.
Safe Harbor Statement under the Private Securities Act of 1995: Statements in this news release that are forward-looking statements are subject to various risks and uncertainties concerning specific factors described in FMC Corporation's 2008 Form 10-K and other SEC filings. Such information contained herein represents management's best judgment as of the date hereof based on information currently available. FMC Corporation does not intend to update this information and disclaims any legal obligation to the contrary. Historical information is not necessarily indicative of future performance.
Always read and follow label directions. Cadet is not registered for use in California. FMC and Cadet are trademarks of FMC Corporation. Roundup Ready is a registered trademark of Monsanto Technology LLC. Callisto is a registered trademark of Syngenta Crop Protection, Inc. Impact is a registered trademark of Amvac Chemical Corporation, © 2009 FMC Corporation. All rights reserved. FMC-2602 07/09
###