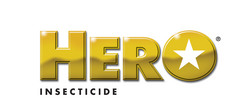 Philadelphia (PRWEB) April 10, 2009
FMC Corporation (NYSE:FMC) held a Grand Prize giveaway ceremony at the National Farm Machinery Show recently, to award the Grand Prizes in its Hero® insecticide Bin Buster Harvest Sweepstakes. The National Farm Machinery Show was held February 11-14, 2009 in Louisville, Kentucky. The Bin Buster Sweepstakes Grand Prize giveaway took place on Wednesday, February 11th.
FMC introduced the Hero Bin Buster Harvest Sweepstakes in 2008 to help corn and soybean growers optimize their yields and profitability by using FMC crop protection products. With corn and soybean prices reaching record highs last year, FMC provided growers with plant protection programs to help them protect the health of crops more effectively.
From October to December last year, growers could sign up to win the Hero Bin Buster Harvest Sweepstakes. Opportunities to enroll were available by calling a toll-free number, signing up on the website or filling out a form provided by their local FMC Star Retailer. The winner of the sweepstakes Grand Prize would receive an 850 Harvest Commander® grain cart made by Kinze® Manufacturing in Williamsburg, Iowa. Second, third and fourth place winners would receive paid grain storage for up to 10,000 bushels of grain for six, four and three months, respectively.
Prizes for the sweepstakes were chosen to accommodate growers' increased bu/A expected with the implementation of the Hero plant protection program.
Terry Mahrenholz of Poseyville, Ind., was the grand prize winner of the Kinze 850 Harvest Commander grain wagon. Mahrenholz was recognized at a reception hosted by FMC Corporation during the 2009 National Farm Machinery Show.
Fairfield, Ill., grain producer Brad Vaughn was the runner up and was awarded six months of grain storage.
Third and fourth place prizes went to Tyler Willis of Greenview, Ill. and Mike McCarren of Belle Center, Ohio.
The Hero insecticide program gives growers the added edge of fast-acting, long-lasting insect control for maximum defense against harmful pests. As a plant protection program, Hero helps prevent damaging insects from eating up valuable crops. Hero protects corn by increasing stalk strength, standability, pollination and ear fill.
On soybeans, Hero stops insect feeding to decrease disease vectors and provide better utilization of nutrients, water and sunlight. As an excellent mix with a herbicide or fungicide, Hero helps control insects while the combination also controls weeds and/or disease in just one application.
For more information about the entire portfolio of corn and soybean crop protection products from FMC Corporation, visit FMCcrop.com.
About FMC
FMC Corporation is a diversified chemical company serving agricultural, industrial and consumer markets globally for more than a century with innovative solutions, applications and quality products. The company employs approximately 5,000 people throughout the world. The company operates its businesses in three segments: Agricultural Products, Specialty Chemicals and Industrial Chemicals.
Safe Harbor Statement under the Private Securities Act of 1995: Statements in this news release that are forward-looking statements are subject to various risks and uncertainties concerning specific factors described in FMC Corporation's 2008 Form 10-K and other SEC filings. Such information contained herein represents management's best judgment as of the date hereof based on information currently available. FMC Corporation does not intend to update this information and disclaims any legal obligation to the contrary. Historical information is not necessarily indicative of future performance.
Always read and follow label directions. Hero is a restricted use pesticide. Hero is not registered for use in California. FMC, Hero and Bin Buster are trademarks of FMC Corporation. © 2009 FMC Corporation. All rights reserved.
FMC 2549 04/09
###