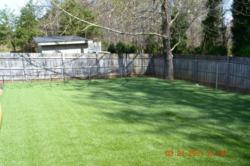 What is better than a referral and personal recommendation from a friend and colleague? Nothing.
Cornelius, North Carolina (PRWEB) April 30, 2011
Dr. Wayne Jones long time friend and colleague of Dr. Lineberger was recommended for his improvements to go with the best in the industry, "Ultimate K9 Grass" a product of the parent company Advanced Recreation Solutions of Mooresville, North Carolina.
The Animal Hospital of Cornelius like many Veterinary Hospitals has an uphill battle trying to keep a clean and safe surface for all their K9 friends and dogs who visit and board overnight. Dr. Kevin Jones, son of Dr. Wayne Jones, says he and his father have battled for years trying to keep grass in their dog run area. It became an endless cycle until Dr. Wayne Jones spoke with his long time friend and colleague Dr. Lineberger. Dr. Lineberger said there is only one way to resolve all the mud and dead grass issues, "Ultimate K9 Grass".
In today's market what is better than a referral and recommendation? Nothing. Dr. Jeff Ward of Wilmington Animal Healthcare, in Wilmington, North Carolina, said it is one thing to talk with the person selling, but it is another when you speak with a satisfied customer. Dr. Jeff Ward said that is what sold him outside that he was very impressed with the product, its construction and knowing that the "Ultimate K9 Grass" was the best choice for their improvements.
Dr. Wayne Jones decided he was going to make changes and improvements to his K9 friends' outdoor play area and run. Dr. Wayne Jones was tired of dealing day after day, season to season with mud. Dr. Wayne Jones said "I have never been able to keep a good stand and I knew I had to do something. That is when I spoke with my long time friend and colleague Dr. Lineberger and he recommeded the 'Ultimate K9 Grass' (http://www.ultimatek9grass.com). That is when we contacted Advanced Recreation Solutions the parent company of the 'Ultimate K9 Grass' (http://www.advancedrecreationsolutions.com). They sent out a representative, took measurements, dimensions and provided us with a quote for materials and labor. Within a few days we had changed our entire dog run environment, it is night and day; the 'ultimate K9 Grass' is the best."
The Animal Hospital of Cornelius opened its doors in 1992, they are proudly serving the Lake Norman area for almost 20 years. The Animal Hospital of Cornelius is a service veterinary clinic with overnight boarding available in our on-site kennel facility. You will find the skills and gentle demeanor of our veterinarians unsurpassed in the profession. Animal Hospital of Cornelius serve clients in Cornelius, Davidson, Huntersville, Denver, Mooresville, and Charlotte, North Carolina. The wide range of services provided, from orthopedic surgeries, ultrasound and digital radiology, comprehensive medical examinations, utilizing advanced diagnostic techniques. Accredited by AAHA American Animal Hospital Association since 1994.
http://www.animalhospitalofcornelius.com
The "Ultimate K9 Grass" requires literally no maintenance, saves one of our most precious resources, water and prevents harmful chemicals being applied to our natural grass surfaces, which effect our natural water source.
In recent years the trend is moving toward "Going Green", helping and saving the environment, but what better way than going with a artificial/synthetic grass surface. The "Ultimate K9 Grass" is the industry lead in the pet and K9 grass environment. Advanced Recreation Solution studied and developed the most advanced product on the market. With one of the highest independently tested permeability manufactured synthetic grass specifically designed for our K9 friend.
The "Ultimate K9 Grass" is being installed in more and more kennels, veterinary hospitals, pet hotels and pet, K9 and dog spas and resorts. It is safe, it is healthy, it protects our pets and the environment, plus our "K9 Friends Love It". What better way to "Go Green"
Animal Hospital of Cornelius is located at 18726 West Catawba Avenue, Cornelius, North Carolina 28031 in the heart of Lake Norman, 704-892-1585, http://www.animalhospitalofcornelius.com
Advanced Recreation Solution is the industry leader with the "Ultimate K9 Grass", http://www.ultimatek9grass.com, playground grasses, http://www.tigerplaygrass.com, sport fields grasses, http://www.tigersportfields.com, and putting greens to residential and commercial, http://www.masterputtinggreens.com. Advanced Recreation Solutions comes with over thirty years of Synethic Grass Surface Knowledge and Experience. http://www.ars-nolimits.com# # #