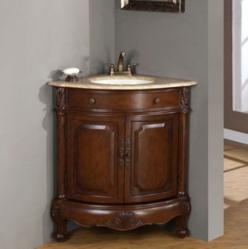 Corner bathroom vanities offer one of the best ways to get the most closed cabinet space while taking up the least floor space possible.
(PRWEB) October 04, 2012
HomeThangs.com – the Home Improvement Super Store has made their goal to deliver the right product to the consumer, with that in mind, shopping and home design tips, as well as special product selections are being introduced.
There are tons of ways to get the most out of a small bathroom, but balancing saving floor space and making more storage space – especially private storage space – isn't always easy. Shelves are nice for utilizing horizontal space, and separate storage cabinets are great if there's the room for them, but sometimes closed storage is something one cannot do without.
HomeThangs.com introduced a selection of corner bathroom vanities, as well as a tip sheet on the best way to get the most closed cabinet space while taking up the least floor space possible.
1. The Chesapeake corner vanity from Pegasus, for example – like a typical contemporary bathroom vanity or cabinet, it has a square, relatively unadorned face made of simple lines paired with a beautiful natural wood grain finish, but it takes up about half the space of more conventional vanities that are the same width. While a typical 30-36″ bathroom vanity protrudes from the wall, taking up precious floor space, corner bathroom vanities occupy the least usable space in the bathroom, literally cutting corners that aren't used anyway.
2. While a conventional or even modern bathroom vanities designed for a smaller bathroom – say, in a modern urban setting or an older cottage style home – seek to maximize storage space with the smallest possible footprint, they run into a simple problem – if put right up against a wall at a 90 degree angle, it still makes the bathroom less efficient. Corner bathroom vanities like the Vintage Oak Vanity by Belle Foret, for example, answer this problem by turning 45 degrees and offering more room to move around.
3. As well, where many compact bathroom vanities alternate between increasing storage area and visually expanding the bathroom (often sacrificing closed storage compartments for bathroom-beautifying white space), corner bathroom vanities make the best of both worlds. Especially ones available in a light finish, like the Parchment Richmond Vanity by Pegasus for example, can have the same lightening, brightening impact of a white bathroom vanity, and help push out the corners of the bathroom, opening up the space both literally and visually.
4. While very few corner bathroom vanities have the open construction that's sometimes desirable in a smaller bathroom, almost to a one they have ample interior storage, which is nothing if not practical. Inside, the bases are corner-shaped, which gives them less space overall than a full sized cabinet would have, but all of it closed – and private. One that's a little wider, like the Single Basin Corner Vanity Bf80039r from Belle Foret will offer a little more mileage out of the space.
5. Corner bathroom vanities are also available in a wide variety of finishes and designs. From simple and contemporary to traditional and elegantly antique-inspired, like the Period Inspired Corner Vanity from Silkroad Exclusive, it shouldn't be hard to find one in a style and wood stain to match the decor.
6. Other corner bathroom vanities bump the front out a little farther, giving the whole piece a diamond-shaped base (and even more storage space). The Manor Corner Vanity from Xylem doubles up on doors, and even has a hidden pull-out drawer for keeping the most-used, smaller items close at hand. It only takes up a little more space than a flat triangular-shaped vanity, but significantly increases the interior space, and allows for a much wider variety of styles.
7. The Carlton Corner Vanity by Xylem for example, plays with the form as well, mimicking open shelf vanities, offering a little room to show off towels or other bathroom trinkets while still keeping enough closed. Paired with a matching corner mounted Medicine Cabinet, it's taking advantage of everything the space has to offer. And despite the slightly weird shape, a corner medicine cabinet can actually offer significantly more storage space without protruding into the teeth-brushing zone.
HomeThangs.com is not only a home improvement superstore, it also provides expert design tips and a comprehensive shopping guide, taking the ideas from professional interior designers, and offering tips to the consumers on how to pick the products to best suit their needs.