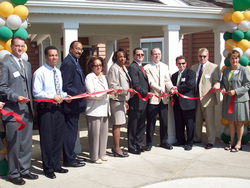 I am so proud to be representing Cleveland Mayor Frank Jackson. This property represents the strategies that the Mayor is pushing. It is a green building with sustainability and the surrounding area has shown improvement making it a nucleus of activity
Cleveland, OH (Vocus) September 15, 2009
NRP Group LLC in cooperation with the City of Cleveland, Ohio Capital Corporation for Housing, Ohio Finance Agency (OHFA), and Charter One Bank celebrated the grand opening of Cornerstone Senior Apartment Homes, a new senior 55+ affordable, 50-unit complex located at 18221 Euclid Avenue, Cleveland OH 44112. Local dignitaries at the ribbon cutting ceremony included Daryl P. Rush, Esq., Director of Community Development, City of Cleveland; Eugene Miller, Ward Council person, Phil Downing, Director, Enterprise Community Partners; Rockette Richardson Vice President, Director of Community Development, Charter One Bank; Kevin Clark, Ohio Housing Finance Agency; Brian Langmeyer, Ohio Capital Corporation for Housing; Kathryn Puckett, Euclid – St. Clair Development Corporation; Aaron Pechota, Vice President Development, The NRP Group, in addition to the Cornerstone residents.
"We believe Cornerstone Senior Apartments represents the first multifamily LEED certified Gold project awarded by the U.S. Green Building Council in the Midwest. Residents benefit from a true mixed use development with a number of amenities within walking distance of their home," said Aaron Pechota, Vice President, Development, NRP Group. "Cornerstone Senior Apartments represents an architecturally impressive and functionally efficient structure providing fantastic indoor and outdoor leisure areas that add to the fabric of this mixed-use development," said Pechota. "The building has been orientated to capitalize on its unique location between Village Green Shopping Center a 40,000 Square foot retail shopping center and Duggan Park a 9 acre City of Cleveland park, which offers an array of outdoor recreational activities including a swimming pool, picnic pavilion, basketball courts, and playing fields."
"I am so proud to be representing Cleveland Mayor Frank Jackson. This property represents the strategies that the Mayor is pushing. It is a green building with sustainability and the surrounding area has shown improvement making it a nucleus of activity," said Daryl Rush, Director, Department of Community Development. "Cornerstone Senior Apartments directly addresses five of the housing objectives of the City of Cleveland's 2020 Citywide Plan. These objectives include: creating decent and affordable housing, provide competitive places to live, a variety of housing choices, senior housing, and design that is consistent with the fabric of the existing neighborhood."
Each community resident is provided with a spacious, well-appointed two-bedroom apartment. Units boast efficient floor plans that connect kitchen and living room areas to create a large, open living space, with almost all floor plans providing a breakfast bar. Kitchens are equipped with ranges, above range microwaves, dishwashers, refrigerators, and garbage disposals. Heat and central air conditioning are controlled in each unit by a programmable electronic thermostat to maximize comfort and energy efficiency. The 70 square foot plus bathrooms included in the community has received praise from residents for their spaciousness and functionality. Storage has been incorporated wherever possible including spacious closets in each bedroom, an entry closet, ample kitchen cabinetry with pantry, and bathroom linen closet. Additionally, each apartment boasts an "extra" bedroom for purposes ranging from additional closet and storage space to a formal dining room.
The NRP Group has been incorporating Green components for several years, which has included Energy Star certification for many of its properties. NRP utilized pre-cut studs using less lumber in construction. Due to the engineering of the framing, the floor trusses were spaced further apart. As construction was taking place, 92% of the construction debris was also recycled from the construction site. Drywall and lumber was recycled and was being re-used.
The Cornerstone Senior Apartment Homes were leased to 100% occupancy within two weeks in June 2009.
The NRP Group LLC: Developer, Builder and Management Company
The NRP Group is a full-service developer, general contractor, and property manager providing a broad range of services. From start to finish, every project The NRP Group takes on is carefully contemplated and executed to maximize investment return, cost efficiency, productivity and satisfaction. The NRP Group has been recognized as NAHB's 2009 Multifamily Development Firm of the Year and has been ranked number one in the Top 50 Affordable Housing Developers for 2007, 2008 and 2009 by Affordable Housing Finance.
Since it's founding in September 1995 by Alan F. Scott, T. Richard Bailey and J. David Heller, the company has experienced continual growth in the fields of single-family, multi-family and senior housing, as well as commercial and retail properties. In all, more than 12,000 multi-family and single-family housing units have been built with another 1500+ planned in 2009.
In 2003, the owners formed NRP Management, which by year-end 2009 will manage more than 50 properties encompassing over 6,000 market rate and tax credit family and senior apartment properties in Ohio, Michigan, North Carolina, Virginia, Texas, Indiana, New Mexico and Arizona.
The NRP Group, LLC has offices in Cleveland, Ohio; San Antonio, Texas; Phoenix, AZ; Raleigh, North Carolina; for more information, call (216) 475-8900 or visit http://www.nrpgroup.com.
###