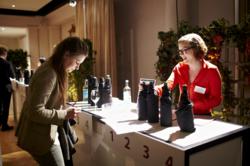 The taste test is designed to be simple and uncomplicated and is intended to demystify wine by allowing people to choose according to their likes and dislikes.
London, UK (PRWEB UK) 9 January 2013
[Corney & Barrow's Winter Annual Wine Tasting, saw guests invited to the wonderful One Marylebone which had been transformed into a Burgundy inspired vineyard for the day. Once inside, the vines complete with real bunches of grapes beckoned them to 'Discover Your Wine Style'.
Sally-Ann Farrington, Head of Marketing for Corney & Barrow, explained, "We recognise that everyone has a personal preference when it comes to taste and a higher price doesn't automatically mean that you will like a wine more. 4 white and 4 red wines of different styles were selected and showed blind, thus removing the element of preconceived ideas around grape variety along with the look of the label. Guests were encouraged to simply say if they liked each wine or not."
"As part of the 'Discover Your Wine Style' taste test, guests were also provided with some key words and phrases to mention to a restaurant sommelier to assist them in selecting a wine, and finally some ideal food and wine pairings for their chosen style."
Also at the wine tasting were producers from some of Corney & Barrow's leading vineyards including Peter Sisseck of Dominio de Pingus and Château Rocheyron; Andrea Franchetti of Tenuta di Trinoro: Olivier Leflaive of Olivier Leflaive, to mention but a few.
Extraordinary ambition combined with a characteristic ability to build relationships has resulted in Corney & Barrow being awarded exclusive rights to sell some of the finest wines in the world including Pétrus, Domaine de la Romanée-Conti, Champagne Salon, Domaine Comte Georges de Vogüé and Clos de Tart. It is with equal pride and dedication that Corney & Barrow selects its everyday drinking wines, each representing the 'best-in-class'.
For over 200 years, Corney & Barrow has been a touchstone of excellence in wine. Today, just as in 1780, the wine merchant is distinguished by its passion and innovative spirit. It has nurtured wonderful relationships with both valued customers and the finest winemakers – estates producing magnificent classic wines, as well as pioneers breaking new ground with contemporary styles. Corney & Barrow has led the way in championing wines that have become internationally renowned and has an unsurpassed portfolio, from bottles offering outstanding value for everyday drinking to en-primeur cases for laying down. The company is honoured to hold two Royal Warrants and is equally proud to have set new standards in service and impartial advice for all its customers. Let Corney & Barrow transport you on a journey of discovery in the fascinating world of wine.