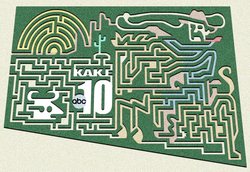 You won't believe how much exciting history and how many interesting people were part of this era. Plus, every kid wants to be a cowboy or cowgirl!
Wichita, KS (Vocus) October 12, 2010
"Git along little dogies!" This year's Wild West theme Corn Maze takes guests across the country on an adventure into the Wild West. Guests explore the pathways, looking for icons and characters made famous during the westward expansion of the United States of America.
"This theme started as an idea for pure fun," says Ron Stein, Cox Fun Farm's Maze Master. "But you won't believe how much exciting history and how many interesting people were part of this era. Plus, every kid wants to be a cowboy or cowgirl!"
The field of towering cornstalks has been carved into the shape of a giant cowboy riding a "Buckin' Bronco". Guests enter with a gamesheet on which they answer questions, collect pictures, decode maps and unscramble secret words, all relating to facts about the Wild West. They find the answers at game stations hidden along the paths.
Cox Fun Farm Corn Maze and Pumpkin Patch, as the "Largest Collection of People-Sized Mazes in the Wichita Area", provides 15 attractions; most included with admission. Guests have access to each attraction including the Corn Maze, Straw Bale Maze, Petting Zoo, Rope Maze, Fun Farm Cutout Photo Gallery, Hayrack Rides, Slipper Slide, Cow Train, and ride the Pumpkin Express Wagons to the Pumpkin Patch.
"It's fun and educational," says Angie Burke, Cox Fun Farm's Group Tour Director. "We did our research and connected our information to the Kansas academic standards, so school field trips are grounded in solid education."
Educational groups may see a number of specialized programs at Cox Fun Farm. Preschool Pumpkin Tours focus on kids identifying plants, farm equipment and tools. Elementary through middle school groups focus on communication, writing, and listening skills as they challenge the mazes, older students may choose a giant scavenger hunt. Our goal is to make each trip a learning adventure for the groups and an enjoyable outing for leaders. The farm will immerse groups in a world of exploration.
Cox Fun Farm is pumpkin paradise. Thousands of pumpkins await adults and children, accessible by the Pumpkin Express Wagons. The Pumpkin Express can hold up to 200 guests AND their pumpkins, and runs approximately every half hour Saturdays and Sundays starting Sept 25, 2010, and hourly on weekdays. Cox Farm's pumpkin pricing has been a hit for the last three years since NO pumpkin costs more than $7.00 no matter how big!
"You should see their eyes light-up when the tractor rumbles to life!" says Ron. The look is almost as priceless as the first time they realize there are more pumpkins in the field than they could possibly count."
To visit Cox Fun Farm or Cox Farm call 316-524-8062 or visit http://www.coxfunfarm.com, click in the Facebook Fan Box and become a "Fan" for updates and special events.
Media Contact:
Angie Burke
ofc: 316-524-8062
fax: 316-529-0115
cell:316-993-6675
###