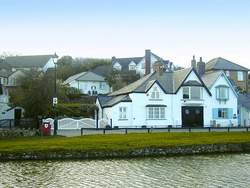 It's clear from conversations we have with our customers that many are choosing Cornwall over a holiday abroad for a variety of reasons...
(PRWeb UK) October 6, 2010
The economy may still be delicate but the Cornish holiday market remains strong as internet sales for Cornish Traditional Cottages continue to rise dramatically year on year. Booking online has become so popular that, since 1998, brochure production has been cut by 90%.
The company, which this Summer ran out of availability completely, believes there has been an evolution in the public's booking habits. Mathew Filewood, Manager, Cornish Traditional Cottages comments, "Year on year we have seen a steady increase in internet led booking. At the same time people now book their holidays later. Gone are the days when families book their Summer holiday at Christmas, nowadays people often wait until a couple of weeks before departure."
Perhaps the appeal to the holidaymaker is the diversity of country holiday homes represented by the company. A variety of size, location and price is offered. From the picturesque busy fishing port of Port Isaac to the least developed parts of Cornwall such as the Lizard Peninsula and inland to the 'leafy dell' of Veryan. Properties vary in type too, ranging from The Clock House (Sleeps 6, available for week beginning October 23 at £529 and for £430pw throughout November), a property refurbished from the old stable block within the Lost Gardens of Heligan, to Beachcomber (Sleeps 4), a light and airy dormer bungalow above the village of Portreath; and from The Anchorage (Sleeps 6, available week beginning October 9 for £668 and for £622pw weeks beginning 30 October, 6, 20 & 27 November), right in the heart of historic Falmouth with its own waterside patio, to Breakwater (Sleeps 6-10, available week beginning October 16 for £1,152) an early 19th century character cottage just yards from Summerleaze beach in Bude.
Customer Services Manager Wendy Mitchell believes the move will be welcomed by customers, "A lot of customers come to us because, as a company, we are sensitive to the world around us and not just set up to maximise profit. We're very conscious of our 'green' credentials. It seems wasteful to continue to print excessive amounts of brochures when more and more of our customers are choosing to book via the website. In 1998 we printed 120,000 brochures, which we've reduced dramatically to 12,000 for 2011, at the same time bookings are up by around 8% per property year on year, and owner income by 10%."
"It's clear from conversations we have with our customers that many are choosing Cornwall over a holiday abroad for a variety of reasons, concern for the environment being one, with cost of air travel being key too, and a holiday in Cornwall offers real value for money." continues Mathew Filewood, "we've reinvested the saving on brochure print costs into the business and further developed the functionality of the website, which has also proved popular with customers."
The company is always looking for new properties to add to its comprehensive listing of places available for rental and maintains its objective of 'providing comfortable self-catering holiday accommodation at a reasonable price', a commitment that sees many of its past customers returning year after year.
For further details, contact:
Simon Whittam on 01752 823414
enquiries(at)swpr(dot)org(dot)uk
http://www.corncott.com
###