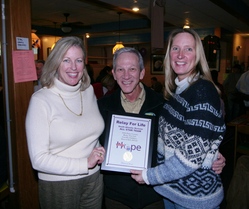 Corolla, NC (PRWEB) February 10, 2011
A January kick off meeting in Kitty Hawk, NC for the OBX Relay for Life was held to include awards presentations for top 2010 contributors. Following emotional "Why I Relay" speeches by four individuals, Kelly Cross of the American Cancer Society (ACS) was present to award Dare County, North Carolina for raising more money in 2010 than any other community of comparable size.
Announced in a January 2011 press release by the OBX Relay for Life, "The top team for 2010, raising $22,300 was Team Corolla Clubbers, staff members of Corolla Classic Vacations& Corolla Real Estate." Denise Graham, Corolla Classic Founder, and Kathleen Reilly, Director of Marketing and Communications, attended the ceremony to accept the award on behalf of the team. Bob Davis, 2011 OBX Relay for Life Event Chair, presented the award to the top team.
The 2011 OBX Relay for Life – Carnival for a Cure event will take place May 14-15 to benefit the local programs and services of the ACS. The society works to create more birthdays for people by fighting cancer every day. This may include transportation to treatment, networking opportunities for patients and survivors, scholarships, grants and more.
Corolla Classic Vacations provides luxury and family oriented vacation rentals with the highest standards of homes in Corolla. Corolla Classic Vacations features handicap friendly rentals, private pools, hot tubs, homes near tennis and golf, and pet-friendly properties. Visit us for your next North Carolina Outer Banks beach vacation!
# # #