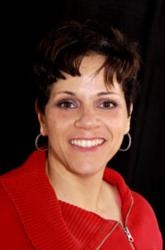 "Genuine relationships are created while women network at The Heart Link Network gatherings." - Dawn Billings, Founder of The Heart Link Network
Corona, California (PRWEB) April 08, 2012
The Heart Link Network®, best women's networking, welcomes a new business networking Leader in Corona, CA. Michele Gutman, leader of the newest women's networking chapter in Corona is an insurance agent as well as a female entrepreneur with Visalus Sciences - a health and wellness company. Michele is committed to aiding women in expanding their circle of influence, connecting with like-minded women, and creating meaningful relationships.
The Heart Link Women's Network®, winner of the 2011 and 2012 "best women's Networking" award, is intimate and welcoming. The Heart Link Network® was created to showcase small business women and their businesses for a full 3 minutes versus other networking groups who only allow their attendees to share for 30 seconds to a minute.
Dawn Billings, founder of The Heart Link Network says, "many news outlets and magazines have asked me, 'What makes The Heart Link Women's Network unique?' and I am always excited to explain that I based the model for The Heart Link Network on the female endocrine system. My degrees are in psychology and my focus was personality and neurophysiology. I love understanding how hormones and neurotransmitters effect how we feel and think and the actions we take. I designed The Heart Link Network to help women raise their serotonin levels and release bonding hormones. This means that genuine relationships are created while our women network. As if that were not unique enough, each attendee receives 3 minutes to showcase their business, instead of 30 seconds or one minute. That one-on-one marketing exposure is priceless. Third, The Heart Link Network was designed to be intimate and warm. We want every woman to feel appreciated, listened to, and welcome at The Heart Link Network." - Dawn Billings, Author and Founder of The Heart Link Network.
The nominal $25.00 registration fee includes a business-exclusive reservation at the meeting, a 3-minute business showcase, an attendee roster, and a light meal at the event. Information and registration instructions may be found at http://www. 92883.theheartlinknetwork.com.
The Heart Link Women's Network® was founded by author Dawn L. Billings, author, highly sought-after speaker, and architect of the Primary Colors Personality Test and the patent-pending parent tool, CAPABLES Parent Tool, who has dedicated her life to finding ways to benefit the lives of women and children. Dawn is also the CEO and Founder of TROVA Business Network, Heart to Heart Media, Find-Success.CO, CharitableHeart.org and was selected as one of 15 Women of Achievement by the YWCA in Cobb County, GA., and one of the nation's 80 emerging women leaders by Oprah magazine and The White House Project.
To see a full list of women networking locations, or to submit an application to lead a chapter of The Heart Link Network®, visit http://www.theheartlinknetwork.com