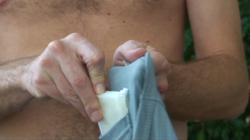 Dr. Allen's therapeutic devices for BPH, coronary heart disease and back pain care are effective, superb value for money and the safest solution for these common chronic conditions.
London, UK (PRWEB) November 27, 2012
"Obama also hopes to reduce unnecessary care, and thus lower costs, by exploring new provider payment systems, for example, the law would offer incentives for physicians to coordinate patient care, improve quality and reduce unnecessary hospitalizations," observes Susan B. Garland in October 2012 covering the pressing healthcare and treatment costs issues in 'Candidates Square Off on Medicare Spending', with Dr. Allen's Devices addressing these issues by providing a successful therapy for coronary heart disease, prostate enlargement and back pain at home, and at a reasonable cost of under 150 US dollars, highlights Fine Treatment.
Prescription-drug treatment regimens for conditions that are a normal part of ageing are now costing the nation more than many serious and potentially life-threatening diseases, reveals a new research from Express Scripts. ST. LOUIS, of Oct. 30, 2012, in "The Growing Cost of Aging: Express Scripts Study Shows Medication Use for Normal Aging Conditions Overtakes Costs of Treating Most Chronic Diseases."
The ageing condition of benign prostatic hyperplasia (BPH), as per the National Institutes of Health (NIH), means the prostate gland has grown bigger and happens to almost all men as they get older. This chronic disease is typically approached with long-term medications and surgical interventions which cost tens thousands of US dollars and can cause severe complications requiring other treatments.
Counterbalancing drugs and prostate removal procedures, Fine Treatment offers a unique Dr. Allen's Device that can treat chronic prostate conditions successfully at home. The enabled Thermobalancing therapy has proven efficacy and side-effects-free. Please watch the following short video http://www.youtube.com/watch?v=dCFy_jZgCLw on how a man with a hugely enlarged prostate has shrunk it by wearing Dr Allen's Device for Prostate Care.
Dr. Allen's Devices for heart treatment and back pain care begin to work from day one, and the users start to gain the therapeutic benefits within days of wearing it. Symptoms like internal pain, heavy sensation and tension ease first. The time necessary to improve the underlying condition of the heart muscle or painful areas varies taking at least several months. It is reasonable to expect the natural restorative processes in the body to take time. And this is exactly what is achieved with the Thermobalancing therapy. Nevertheless, the devices are comfortable to wear, and don't need replacement for at least one year.
"The cost of treatment of common chronic conditions is rising every year, and has become a critical issue for people and the government," says Dr. Simon Allen. "Dr. Allen's therapeutic devices for BPH, coronary heart disease and back pain care are effective, superb value for money and the safest solution for these common chronic conditions."
For details, visit Fine Treatment at http://finetreatment.com/coronary-heart-disease-treatment-angina-relief/
About Dr. Simon Allen and Fine Treatment:
Dr. Simon Allen is a highly experienced medical professional. His specialty is in the internal medicine and cardio-vascular field. He has treated a wide range of chronic diseases, including patients after a heart attack, with kidneys problems, including kidney stones disease, prostate and spine conditions, as well as metabolic disorders. Fine Treatment exclusively offers Dr. Allen's devices for chronic prostatitis and BPH treatment, coronary heart disease, dissolving kidney stones, as well as lower back pain relief and sciatica treatment.