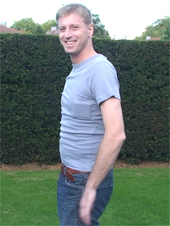 A natural coronary heart disease treatment that reaches your heart is the best way to improve condition of the heart muscle.
London, UK (PRWEB) January 08, 2012
New Thermobalancing Therapy for prevention and treatment of coronary heart disease(CHD) is now available at Fine Treatment worldwide. Dr. Allen's Device for Heart Treatment is essential care of the heart as it works 24 hours a day (day-by-day) improving the condition of the heart muscle. See the video on this page where the interviewer form Oxford Innovation Centre asks questions and the interviewee, one of the Fine Treatment's patients, answers to them. As follows from the video, 89 years old lady has recovered from heart failure over 2-years ago and enjoys her life pain free because she wears Dr. Allen's Device for Heart Treatment.
According to the Centres for Disease Control and Prevention (or CDC) each year heart disease kills more Americans than cancer. In recent years, cardiovascular risk in women has been increasing and has killed more women than breast cancer. So the most dangerous disease which causes one in three deaths in the USA can have a safe cure now.
Fine Treatment introduces a new natural device for the heart treatment that everyone will be able to use at home. The major ingredient the natural thermo-element is incorporated in the vest which keeps this thermo-element near to the heart increasing the blood flow inside the heart muscle. Learn more about how easy is to apply the thermo-element to the heart are by watching a video: http://www.youtube.com/watch?v=UeKMF8UMPMk
"A natural coronary heart disease treatment that reaches your heart is the best way to improve condition of the heart muscle," says Dr Allen. "Keep the heart muscle in a healthy condition and enjoy your life pain free."
Dr Allen's Device for Heart Treatment tackles the cause of the heart problems: by creating a favourable situation for the fine blood capillaries to stabilise the body temperature within the tissue of the heart. This improves the blood flow in the heart muscles on the capillary level which reduces the micro-swelling in the walls of coronary arteries dropping the internal pressure and, thus, stopping pain and discomfort. In addition, the heart muscle gets sufficient nutrients for the processes of recovery. Read more at the Fine Treatment website: http://www.finetreatment.co.uk/natural-alternative/heart-treatment.html.
About Dr. Simon Allen and Fine Treatment:
Dr. Simon Allen is a highly experienced medical professional. His specialty is in the cardio-vascular field and he treated patients with coronary heart disease, joints, kidneys and prostate conditions. Fine Treatment produces and distributes devices for the prostate conditions such as chronic prostatitis and BPH, coronary heart disease, to dissolve kidney stones and to relieve back pain in the upper and lower spine.
###