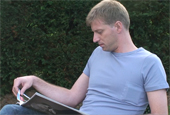 Dr. Allen's therapeutic device for heart treatment is easy to use at home and it relieves angina gradually and naturally.
London, UK (PRWEB) January 07, 2013
According to the National Institutes of Health (NIH), coronary heart disease (CHD) is the most common type of heart disease. In the United States, CHD is the #1 cause of death for both men and women.
New research raises serious concerns about statins, which are the most common drugs used to reduce signs of heart disease. "One of the main side effects of statin treatment is the increased risk of developing muscle pain. An estimated 75 percent of people on the medication report symptoms of muscle pain which can lead to problems with compliance (adherence)," states the article 'Statin Treatment Associated With Muscle Pain' in Medical News Today, January 4, 2013.
"Currently 3.7% of Caucasians over 20, 5.6% of blacks over 20, and 3.7% of Mexican-Americans over 20 are affected by angina. In addition, 64% of women who suddenly die of coronary heart disease showed no symptoms. Finally, of the 7.5 million women affected by coronary heart disease, 3.1 million have an existing history of heart attack," states the article Florida Heart Group Shares Startling Fact about Women and Heart Disease', dated January 3, 2012.
So what to do? Women and men can minimize their chances of heart disease by exercising and controlling their blood pressure. Dr. Allen's device for heart treatment can also help. Oxford Innovation has interviewed patients who have used the Thermobalancing therapy for different chronic internal diseases. The following video discusses the treatment of coronary heart disease after a heart attack: http://www.youtube.com/watch?v=d71eEYSgN2U.
"Different conventional treatment options for coronary heart disease can develop severe side effects, thus men and women have to protect their well-being with natural Thermobalancing therapy and by minimizing risk factors, such as hypertension and smoking," says Dr. Allen. "Dr. Allen's therapeutic device for heart treatment is easy to use at home and it relieves angina gradually and naturally."
For details, visit Fine Treatment at http://finetreatment.com/coronary-heart-disease-treatment-angina-relief/.
About Dr. Simon Allen and Fine Treatment:
Dr. Simon Allen is a highly experienced medical professional. His specialty is in the internal medicine and cardio-vascular field. He has treated a wide range of chronic diseases, including patients after a heart attack, with kidneys problems, including kidney stones disease, prostate and spine conditions, as well as metabolic disorders. Fine Treatment exclusively offers Dr Allen's devices for chronic prostatitis and BPH treatment, coronary heart disease, dissolving kidney stones, as well as back pain and sciatica relief.