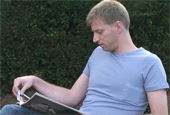 You can find here the first effective natural treatment for your heart.
London, UK (PRWEB) December 23, 2011
New Dr. Allen's Device for Heart Treatment works 24 hours a day improving the condition of the heart muscle. The device relieves angina and other symptoms naturally reducing the need for additional medication and even heart surgery. This new natural therapy is very effective for the heart treatment and recovery after a heart attack. It is important to note that this natural treatment is an alternative to painkillers and other drugs that may have different side effects. The Thermobalancing Therapy is in the core of this natural heart treatment.
What is the Thermobalancing Therapy? The Thermobalancing therapy has been developed about 5 years ago by Dr. Simon Allen after he has concluded his research the Origin of Diseases. This research has explained the cause of the coronary heart disease and other different internal diseases, including back pain, prostate conditions, kidney stones and joints.
Arteries, which are supposed to have a lining that has a smooth consistency, can become clogged with plaque buildup, which can lead to health issues such as angina, coronary heart disease and cardiosclerosis. Plaque buildup in coronary artery is dangerous and is made up of a number of different substances including cell waste, fat and many other bodily materials that are produced on a regular basis. As has been explained by Dr. Allen these substances and the plague begin to appear as a result of the spontaneous capillaries growth. In order to prevent the plaque buildup in arteries you have to relieve the problem at the capillary level.
Indeed the new knowledge of the cause of angina and post heart attack condition demonstrates a way how to treat these medical problems at home, just by improving the blood flow not only in heart muscle but in walls of coronary arteries, for additional information go to the Fine Treatment website: http://www.finetreatment.co.uk/natural-alternative/heart-treatment.html.
"You can find here the first effective natural treatment for your heart," says Dr Allen. "People have to keep their hearts in healthy condition to avoid coronary heart disease."
Treatment with Dr Allen's Device for Heart Treatment can be easy done at home. Specially designed, Dr Allen's Device for Heart treatment is comfortable to wear and does not affect the day-to-day activities of its users. You can also watch great videos about this exclusive coronary heart disease treatment in the World.
About Dr. Simon Allen and Fine Treatment:
Dr. Simon Allen is a highly experienced medical professional. His specialty is in the cardio-vascular field and he treated patients with coronary heart disease, joints, kidneys and prostate conditions. Fine treatment produces and distributes devices for chronic prostatitis and BPH treatment, coronary heart disease, to dissolve kidney stones and to relieve back pain.
###