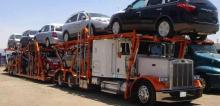 Corporate Auto Transport and it's Carriers are a 5 star company!
Portland, OR (PRWEB) September 20, 2011
Corporate Auto Transport, one of the leading top rated auto transport companies in the U.S., has recently become accredited with the Better Business Bureau. Corporate Auto Transport will better demonstrate on a national level their excellent reputation through this Accreditation.
Accredited by the Better Business Bureau since June of 2011, Corporate Auto Transport is headquartered in Portland, OR and committed to providing excellent 5 star quality customer service to each and every client. They are showing consumers what customer service is really all about. Heading to new levels in customer satisfaction, it is extremely rare to find an auto transport company that truly cares about their customers and their vehicles as much as Corporate Auto Transport does and shows that off by maintaining an excellent rating with no complaints at the BBB.org. The level of customer service that is offered by Corporate Auto Transport is proving high quality with their zero complaint history and Accreditation with the Better Business Bureau. Looking toward the future, it seems Corporate Auto Transport is anxious about promoting their brand Nationwide through the Better Business Bureau and showing new customers what their previous customers already know.
"We are very happy with our brand and the high Customer Service standards we offer our clients, which is what we truly believe all consumers deserve," says Chris Nell, marketing director at Corporate Auto Transport.
Corporate Auto Transport is continuing to grow domestically, which is why their new status of Accreditation with the BBB is so vital to show off their extremely high customer satisfaction rate to all consumers looking to transport their vehicles Nationwide and door to door. Whether shipping a car locally or coast to coast, with Open or Enclosed carriers, all shippers now have an honest company to call for all their vehicle shipping needs. They offer a 100% satisfaction Guarantee and a simple honest approach with no high pressure sales tactics. When you call Corporate Auto Transport you can expect to receive honest quotes and information about your specific auto transportation, including great attention to details and requests. What more could you ask for when shipping one of your most important valuables? Whether shipping your newly purchased classic car, your restoration project or your dependable family vehicle cross country you know you can count on Corporate Auto Transport to make your move as smooth and efficient as possible.
Corporate Auto Transport has been very dedicated over the last year to building and promoting their reputation in the auto transport industry as a company that provides the best customer service out there, not only by showing their integrity with the Better Business Bureau but with each individual customer that they do business with. They're the only Auto Transport company in the industry to offer highly rated carriers and a single point of contact who stays in close contact from pick-up to delivery with each individual shipper. Now that's what excellent customer service is all about.
You can also find more proof of their excellent vehicle shipping standards by checking out their high rankings in consumer reviews located at transportreviews.com , where they are a 5 star rated company. It just doesn't seem to get any better than that. Available 6 days a week, they are simply the best auto transport company around.
###