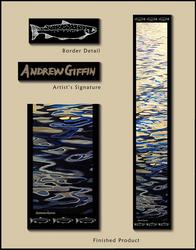 For a professional association, non-profit organization, or company, Monsoon creates original artistic promotional items or corporate business gifts.
Montreal, QC (PRWEB) February 22, 2010
Monsoon Corporate Business Gifts announces an exciting new program which connects artists with organizations and professional associations. Instead of tiresome corporate business gifts that nobody uses, Monsoon Corporate Business Gifts suggests creative promotional items such as scarves, ties and prints that feature independent artist reproductions. By offering this program, Monsoon addresses a growing need for innovative corporate business gifts, while engaging independent artists to showcase their work. The benefits for a profession associations/non-profit organization are increased member loyalty and increased awareness. Members proudly promote their association when they wear Monsoon's items. For independent artists, who may have difficulty promoting their art in a slow economy, the new initiative offers increased visibility of their art through alternative channels.
The program comes from the president of Monsoon Corporate Business Gifts, renowned artist J.S. Rangi. Clients of Monsoon Corporate Business Gifts span many demographics, from corporations, professional associations, trade associations, non-profit organizations, sports leagues, and more. But Rangi reports that artists are a growing client base, as well, and that even simple images can be transformed into exciting textile pieces. The Atlantic Salmon Federation, for example, commissioned scarves from Monsoon which feature a painting from artist Andrew Giffin.
"My scarves are very popular items at the fundraising dinners with the Atlantic Salmon Federation," Giffin reports. "I've gotten great feedback and enjoyed wider exposure of my work. These kinds of corporate items offer a great opportunity for artists to promote themselves."
Rangi's own artistic experience confirms the importance of visibility for emerging and established artists.
"Some artists are reluctant to expand their reach from out of the gallery and into unique corporate business gifts and gift shop items," said Rangi. "But it's one of the best directions one can take with one's art. Not only can artists share their work with a wider audience, but they can increase their profile in an ever-growing social networking arena."
For professional associations and companies, the benefits of using independent art for promotion are apparent. Such original and creative corporate business gifts are more likely to stick with prospects than a generic branded item. Frank Caracciolo, artist and creative director of Amabile Fashions, was excited to collaborate with Monsoon. Says Caracciolo, "Amabile had a vision of creating silk scarves for women based on original artwork, and Monsoon helped us to successfully develop a high-quality item. We were more than thrilled with the results. Monsoon helped us to successfully launch our company and bring a high quality product to consumers, creating pieces that we are proud to have our name on."
Rangi's work has been featured in prestigious museums worldwide. The unparalleled quality of his productions with Monsoon Corporate Business Gifts comes at a reasonable price, with an unfailingly original approach.
"As an artist, I understand what a long and difficult process it is for them to make a name for themselves," Rangi said. "Monsoon Corporate Business Gifts can assist artists in breaking out of a conventional gallery setting. And for a professional association, non-profit organization, or company, Monsoon can assist with original artistic promotional items or corporate business gifts."
For more information, see the website of Monsoon's Unique Corporate Business Gifts
About Monsoon Corporate Business Gifts:
Founded in 1984, Monsoon creates unique corporate business gifts for any occasion. Monsoon's clients include emerging and established artists, professional and trade associations, prestigious museums worldwide, sports leagues, corporations, associations, hotels, and more. With Monsoon's unique corporate gifts, you can brand your organization, offering personalized corporate business gifts to employees, celebrate business anniversaries with custom apparel, or order limited edition prints suited to conferences or any other special occasion. Monsoon offers custom silk ties, scarves, prints, and more.
###