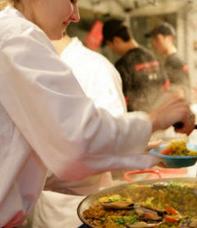 When it comes to corporate catering, a success event requires good planning.
San Francisco, CA (Vocus/PRWEB) March 04, 2011
Paella Party Catering in San Francisco says getting the facts straight, not losing a sense of style, being on time, and determining the budget are four ways to ensure corporate catering success.
"When it comes to corporate catering, a success event requires good planning," said Chef W. Ciado, founder of Paella Party Catering. "We put out a 110% effort because we know that a client who throws a successful corporate event will have a very satisfied boss."
First, get all of the facts straight. Know the number of people that are going to be attending, ensure that the venue will be able to accommodate everybody, and plan more than enough food for everyone. Also, try to get the big names that will be attending the event. Once their names are gathered, do a quick online search to try to find out what they value in a successful event, then focus on those things.
Keep it stylish. Corporate catering events can be either casual or formal. If the company opts for casual, be sure not to lose a sense of style. Make sure that everything about the event evokes a chic, yet fun atmosphere. The food should never dip below impeccable, and the venue should impress. For formal corporate catering events, it is best to hire the help of professional planners in order to get the job done properly, especially if this is an individual's first time planning an event of large magnitude.
Be prompt. Make sure that the company's dining experience begins on time. The best way to do this is by being at the venue 2 to 3 hours before it starts, so there is ample time to fix any last minute disasters. Ideally, the event schedule should include periodic breaks so that guests do not become fatigued.
Finally, when planning a corporate catering event, determine the company's budget at the earliest point possible. It might take some creative planning to stretch limited dollars and develop a first-class menu that aligns the palette with the pocketbook. The goal is to make the most of the money that is available and leave the company with a satisfying taste in their mouth.
For more information about corporate catering or any of Paella Party Catering services, call them at (650) 288-1506 or view them on the web at http://www.paella-party-sanfrancisco.com.
About Paella Party Catering
Paella Party Catering, founded by Chef W. Ciado, serves renown tapas and paella catering in San Francisco and the greater Bay Area. They specialize in San Francisco Bay Area corporate catering, wedding catering, holiday gatherings, private parties and event production. Equipped with a warm staff and a realm of experience, Paella Party Catering brings a trio of warmth, passion and culinary expertise to the table for each event. Paella Catering in San Francisco offers gourmet food catering, quality party rental and experienced party personnel.
###