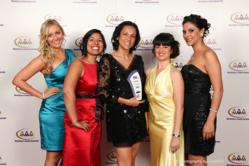 Being named National Event Management Organisation for 2011 is the culmination of a very exciting period for Forum Group Events
Sydney, Australia (PRWEB) May 01, 2012
For the second year in a row, Meetings & Events Australia (MEA) has announced Forum Group Events as Winner of National Event Management Organisation. For the small and closely knit team that comprises Forum Group Events, the award is recognition of its ongoing commitment to excellence in event management.
"Every member of our team has a very real passion for organising events that reflect the needs of our clients, regardless of the size of the event or its budget," said Forum Group's Managing Director, Leanne Constantino.
"We invest time in understanding our clients needs, and pride ourselves that most of our clients are repeat customers," she said.
The MEA Awards recognise excellent business practice in the Meetings & Events Industry. They encourage industry professionals to excel in the achievement of their business and personal goals, and reward those who achieve outstanding results.
"Being named National Event Management Organisation for 2011 is the culmination of a very exciting period for Forum Group Events" continued Ms Constantino. "As we grow, we are gratified that so many of our clients are referred to us by those for whom we have organised successful events."
She elaborated: "With 15 years experience in the corporate events industry, we have a proven successful track record and a reputation for integrating into our clients' in-house teams in order to deliver personalised service."
This latest award is one of a string that the company has received in recent years, and Ms Constantino was delighted that the company was named a finalist in three categories of the recent 2012 Business Excellence Awards.
More information about Forum Group Events can be found at http://www.forumgroupevents.com.au
About Forum Group Events
Forum Group Events is an Australian owned and operated corporate events management agency with over 15 years national and international experience.
The agency has worked with a variety of clients from in-house organisers to some of the world's leading corporate brands, to plan all aspects of events from small, intimate gatherings to major events of several thousand delegates.
The team supports local and international markets by creating unique events and experiences through innovative ideas and meticulous planning.
About Leanne Constantino
Leanne Constantino been involved in the event management industry for over 15 years. 
As owner and Managing Director of Forum Group Events since 2007, Leanne has had the privilege and opportunity to work with leading Australian associations, global franchise organisations and global corporate brands.  She prides the success of her business on long term relationships formed with clients and suppliers, who have become trusted business partners of Forum Group Events.
Leanne is passionate about creating big things with small business, leading her tight-knit team to create amazing experiences for clients, whilst keeping the personalised touch in service. Leanne directs the strategic planning of each clients' event requirements and manages the team to create world-class innovative events.
For more information about Leanne Constantino and Forum Group Events visit http://www.forumgroupevents.com.au