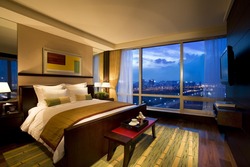 Bring a dozen passport photos, you'll need them.
Washington, DC (PRWEB) June 12, 2008
Steve, a business executive from Dublin, California, cooks his favorite foods and socializes with new-found friends through running and hiking clubs and the occasional "wine and Wii parties" at his Marriott Executive Apartments - corporate housing with hotel services and amenities -- in Seoul. On a three-year assignment in Shanghai, Mike connects with friends and family in Colorado through video conferencing, while embracing Eastern culture and socializing with fellow expats in his new "home away from home."
Some foreign language knowledge, the ability to meet locals and mix with other expats, and comfortable, centrally located corporate housing, were key strategies for success for the 191 extended stay guests at Marriott Executive Apartments who responded to an Executive Expat Life Survey conducted online by CfK Custom Research North America. For research findings and executive expat stories, visit Marriott Executive Apartments on Marriott.com.
The research revealed more about this unique and growing breed of extended stay business traveler -- the executive expat. They are largely senior executives who travel extensively - often on long-term assignment -- and 68% consider themselves "expatriates." They tend to be male (84%), middle aged (47 years old), married (73%), traveling with spouses (53%), with either no children or grown children (71%), and in finance and banking, government, technology, manufacturing, construction, telecom, and oil and gas sectors.
Globalization appears to be the force behind an increase in executive expat travelers. Another study just released, the 13th annual GMAC Global Relocation Trends Survey, projected growth in expatriate populations, with most multinational companies surveyed estimating increased (68%) or similar (7%) expatriate populations in 2008.
The Greatest Challenges
Of all the issues associated with long stays abroad, 51% of respondents cited language difficulties, followed by work issues (37%), limited time to explore the new country (32%), staying connected to friends and family (28%) and adjusting to cultural differences (27%).
"Work challenges, language challenges," were top-of-mind for Mike, who is on extended stay at the Marriott Executive Apartments Tomorrow Square, Shanghai. But like many who responded to the survey, he is a well traveled, senior executive who has spent more than 10 years traveling in Asia. For him, the cultural differences were the attraction, not the challenge.
For Michael, an entertainment executive from Los Angeles staying at the Marriott Executive Apartments Longin Center, Prague, Czech Republic, the local language was the biggest challenge and learning it the most important key to success.
Keys to Survival
Although language was the biggest acknowledged issue, perhaps due to the complexity of learning languages such as Chinese, Japanese and Korean, respondents ranked fixing the foods they like in their own apartment kitchens their top survival strategy (47%), followed by meeting local people (39%), socializing with other expats (39%), using video conferencing to connect to friends and family (38%) and learning or studying a foreign language (37%).
The type of corporate housing does appear to enhance the enjoyment and the successful outcome of the extended stay, with 62% of respondents saying their current MEA hotel was better than other long-term accommodations they had experienced and 68% reporting that it took them just one month or less to adjust to their new home. Eighty-two percent of survey participants rated their MEA location/neighborhood an important amenity, followed by in-room technology (80%), full kitchen (76%), overall appearance and comfort (73%), fitness center on site (68%), knowledgeable staff (64%), spaciousness (64%) and maid service (63%).
"I like to tell my family how good it was to find a place that was within walking distance to my place of work," said Vance, an aerospace executive from Seattle staying at the MEA Shanghai Pudong for up to 12 months. "I also wanted a place where I could feel at home and not feel like I was living in a temporary place."
A permanent resident of Strasbourg, France, Jean is spending up to a year at the MEA Tomorrow Square, Shanghai, appreciated being able to have a friend visit with him for a couple of days. The friend, he says, "...was very well welcomed and almost felt at home."
Patty, a spouse accompanying her husband on a two-year assignment from Houston, Texas, says her circle at the Marriott Executive Apartments Palm Springs - Beijing, are largely expats from the U.S., Brazil, Austria, Italy, Norway, India and China. "We actually joke about the MEA being a dorm, as we have become close friends even in the short time that I have been here. We plan outings, exercise, shop, carpool, golf and eat dinner together several times a week. What a group!"
And then there is the nesting instinct that cannot be denied, even far from home. Gina, an automotive executive from Boston staying for up to two years in Shanghai, likes the fact that she can customize her apartment with furniture purchases she is making while living in China.
Expat Advice
When asked how they would advise someone planning a one-year expat assignment in their location, most preached the importance of some language skills, cultural open-mindedness, socializing with locals and other expats and finding a comfortable, centrally located serviced apartment. They also had good practical advice about joining a long-distance broadband phone service like Skype, getting a streaming television device such as Slingbox, stocking up on food items and over-the-counter medications from home and scanning important documents into the computer.
"You will need to reference these and most people don't move with their file cabinet," said Steve, adding, "Bring a dozen passport photos, you'll need them."
"Find a way to meet local people, and take maximum advantage of your stay to get out and around and see the country," advised Philip, a food and beverage executive from Pittsburg staying at the Marriott Executive Apartments Atago Forest, Tokyo. He became an active participant in the Garden Chapel, a small non-denominational church with mostly Japanese members, most of whom had lived overseas and frequently got together socially.
The Greatest Rewards
Despite the challenges, 93% of the executives said the positives of their expat experience outweighed any negatives. Of the possible benefits, they were most enthusiastic about the cultural experiences they were having/had in a different country (85%), their ability to travel on personal time (65%), the financial benefits (62%), new contacts and friendships (59%) and long-term career opportunities (58%). And 84% of respondents said they definitely or probably would accept another long-term assignment overseas.
Respondents of the Executive Expat Life survey were current and recent guests of Marriott Executive Apartments in Asia, the Middle East, South America, Europe and the U.K. Most of them reside permanently in North America, Asia and Europe.
Marriott Executive Apartments, the upscale serviced apartment brand of Marriott International (NYSE: MAR) will nearly double in size in the next 36 months to respond to a growing need in many emerging markets for corporate housing for executive expatriates needing spacious lodging and hotel amenities. Today, Marriott operates 16 MEA hotels in 13 countries outside the U.S., and 15 more hotels are planned in countries such as Bahrain, Qatar, Thailand, Egypt, China, India, the United Arab Emirates and Saudi Arabia.
###
MARRIOTT INTERNATIONAL, Inc. (NYSE:MAR) is a leading lodging company with more than 3,000 lodging properties in the United States and 66 other countries and territories. Marriott International operates and franchises hotels under the Marriott, JW Marriott, The Ritz-Carlton, Renaissance, Residence Inn, Courtyard, TownePlace Suites, Fairfield Inn, SpringHill Suites and Bulgari brand names; develops and operates vacation ownership resorts under the Marriott Vacation Club, Horizons by Marriott Vacation Club, The Ritz-Carlton Club and Grand Residences by Marriott brands; operates Marriott Executive Apartments; provides furnished corporate housing through its Marriott ExecuStay division; and operates conference centers. The company is headquartered in Bethesda, Md., and had approximately 151,000 employees at 2007 year-end. It is ranked as the lodging industry's most admired company and one of the best companies to work for by FORTUNE®, and has been recognized by the U.S. Environmental Protection Agency (EPA) with the 2007 Sustained Excellence Award and Partner of the Year since 2004. In fiscal year 2007, Marriott International reported sales from continuing operations of $13 billion. For more information or reservations, please visit our web site at http://www.marriott.com.
###