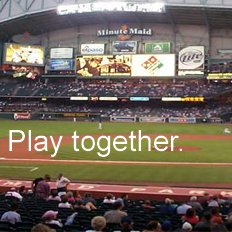 It really is win-win for the American employer, who can often retain star players on their staff by simply demonstrating and sharing an appreciation for camaraderie with employees
Houston, TX (PRWEB) October 15, 2008
MyTicketIn.com announces its new Employee Incentives and Employee Retention Program as a flailing economy veers toward recession. "Now is the best time to extend a warm hand to employees and cement bonds with co-workers in the workplace," says company president, Malcolm Robinson. By doing so, the employee is more likely to stay, Robinson argues, and more likely to remain loyal in bad times and persevere on difficult tasks with a feeling of truly being a member of a team. Many might ask how a ticket broker can play a role in this employee-employer dynamic.
BlessingWhite's recent Employee Engagement Report 2008 confirms that the average corporate employee measures relaxation and coworker relations as a major factor in whether or not they stay with their current employer or move on to the next big opportunity on their career ladder. What many employers have been finding is that the way to keep a stable office is to keep a happy office, where stress is kept at a minimum, relaxation at a maximum, and where networking opportunities abound. Literally, going to see a game together can not only keep employees around much longer, but enrich the interpersonal dynamics between coworkers and enhance a sense of team unity, increasing productivity and promoting team goals.
By working with corporate employee retention programs and management in smaller companies in locating bulk and VIP tickets and seating to sporting and cultural events, MyTicketIn.com has taken on a role in providing the means to create greater employee incentives and motivation as well as greater retention of valuable expert talent. A company outing is still a primary way to create emotionally positive events on the timeline of employment with an employer. Sporting events are typically chosen because often both men and women can enjoy rooting for a local team, even if they are not originally fans of the team. Opportunities are created to socialize and network, creating more trust and greater sense of relaxation in the office during work hours.
Robinson argues that such rocky economic times as these can trigger the expectation of layoffs and even employment moves to other regions or to companies with less risky staffing issues, and are therefore often the best times to reinforce the feeling of job security and a safe and friendly atmosphere in the office. Providing Houston concert tickets, ballet or sports events tickets could help the average Houston-based corporation to retain valuable employees at minimum cost, according to Robinson. This model, he states, is good for the rest of America, as well. "It really is win-win for the American employer, who can often retain star players on their staff by simply demonstrating and sharing an appreciation for camaraderie with employees," says Robinson. "Ultimately, the goal is to bring the fun of the football and baseball stadiums back into the work environment, to reinforce the energy of serious play as an ideal model of how your employees can and should interact, and assure employees that they are valued. The difference is ultimately a matter of making the employees really care about the company they work for. It's about making them like their jobs, rather than half-heartedly showing up every day for a paycheck every two to four weeks. What employees develop in terms of offsite networking and trust-reinforcing behaviors at the basketball game or the golf tournament can gradually become the norm in on-site working behaviors, as well. So a simple pair of Texans tickets for corporate Houston employees, for example, can play a pivotal role in office relations for your average Chevron or Schlumberger. The employer's ultimate payoff, of course, is in terms of enhanced productivity, more successfully completed projects and goals, as well as greater retention of skilled, seasoned talent."
For more information on how to take advantage of MyTicketIn.com's sporting and cultural events to enhance camaraderie, productivity and bolster employee retention strategies, contact Malcolm Robinson or any representative at (832) 519-0386 or by going to http://www.MyTicketIn.com online.
# # #