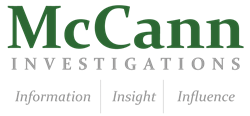 The information gathering process at the beginning of all of our investigations really makes a difference in the kind of results we can provide.
Houston, TX (PRWEB) March 07, 2014
McCann Investigations, a private investigations and digital security firm that operates throughout Texas, announced that its Houston location now provides detailed background and corporate intelligence analyses to assist in fraud investigations.
Fraud refers to any form of deception committed by a person who is attempting to get some sort of personal or financial gain. In these cases, the McCann team believes that the first step to an investigation should be to pore over the investigation target's background to uncover as much intelligence as possible that could frame the way the rest of the investigation progresses.
"The information gathering process that we take at the beginning of all of our investigations really makes a difference in the kind of results that we can provide," said Daniel Weiss, Managing Partner at McCann Investigations. "This step is one of the biggest reasons why working with McCann Investigations is one of the best ways to ensure success in your case."
McCann's Houston investigators generally start their background investigations by determining what is the nature of the problem, who is the source of the issue for the client, and what the client knows about the target. Occasionally, investigators must separate what the client "knows" about the target from what is actually true about the target, which requires some discipline as an investigator.
After answering these initial questions, McCann investigators conduct an extensive review of possible criminal activities, assets, civil issues and connections and research the target's digital footprint to find potential areas to search for evidence.
"Our team has a great deal of experience in background investigations, and this first phase of our work with our clients is extremely important in setting us up for success," said Weiss. "We are pleased to offer these services to Houston-area clients to protect them from the effects of fraud."
For more information about the services provided by McCann Investigations in the Houston area, visit the company's website at http://www.mccanninvestigations.com and follow the company on Twitter at @mccangi.
About McCann Investigations
McCann Investigations is a Texas-based private investigations practice focused on comprehensive investigations incorporating digital forensics, surveillance, undercover work and background checks for clients in various case types. Service areas include intellectual property theft, non-compete enforcement, fraud, embezzlement and family law. McCann Investigators are experts in the latest computer forensics tools and are licensed with the state of Texas. McCann examiners have provided expert testimony and reporting in hundreds of cases across the state.