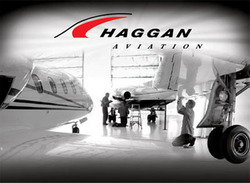 Haggan Aviation has grown into a very successful aircraft service company over the last 12 years
Englewood, CO (PRWEB) October 16, 2008
Aviation maintenance and repair company Haggan Aviation is launching an improved Web site that gives customers a surprising array of tools. The company's site not only offers customers information and quotes on corporate jet aircraft maintenance and repair, but also allows them to plan leisure activities for their downtime in Colorado.
Haggan Aviation employs experienced, certified mechanics and performs scheduled and unscheduled aircraft maintenance, avionics installations, interior refurbishment, structural repairs and modifications. They are committed to safety, customer service, quality and reduced downtime. They offer maintenance seven days a week, with two shift coverage and are available to provide AOG services to the mountain resorts and surrounding states.
The company's new Web site has been designed to make it easier for prospective customers to best determine how Haggan Aviation can meet their needs, as well as to get cost estimates for service, and plan for downtime while their aircraft is being serviced.
Among the notable improvements to the Web site is the While You're Here section, a detailed directory of restaurants, resorts, hotels and attractions near the Haggan Aviation facilities in the Denver, Colorado, area. Major attractions include fishing, hiking and skiing locations, casinos, golf courses and Denver-based professional sports. While Haggan Aviation has a sterling track record for minimizing its clients' downtime, these resources enable aircraft owners to easily combine their necessary aircraft maintenance tasks with relaxing vacations.
"Haggan Aviation has grown into a very successful aircraft service company over the last 12 years," explains Jeff Graser, Vice President of Sales at Haggan Aviation. "From humble beginnings, we have earned a very loyal customer base. We strive to satisfy our customers' needs and earn new customers by providing honest service and value. The features of our new Web site are instrumental in helping us to provide superior customer service."
Haggan Aviation provides maintenance services for corporate jet aircraft, specializing in Learjet, Hawker, Citation, Westwind, Astra and Beechjet. Its major structural repair capabilities include the installation of Delta Fins, Raisbeck ZR Lite Performance Systems and Aft Fuselage Lockers.
To learn more about the skilled aircraft mechanics and extensive maintenance services offered by Haggan Aviation, please visit Hagganaviation.com.
About Haggan Aviation:
Founded in 1996 by Eugene Haggan, the Denver, Colorado-based Haggan Aviation is a full-service maintenance and repair company specializing in corporate jet aircraft from Learjet, Hawker, Citation, Westwind, Astra and Beechjet. Its aircraft mechanics are certified and extensively experienced with both new and old aircraft. The company's redesigned Web site at hagganaviation.com offers detailed information on Haggan's aircraft mechanics and services, as well as tourist and recreation activities in the Denver area.
###