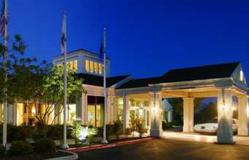 Save 15 percent when you stay at Hilton Garden Inn during The Great Getaway
Livermore, CA (Vocus/PRWEB) May 25, 2011
East Bay's Hilton Garden Inn Livermore announces a 15 percent discount on Bed & Breakfast for all bookings before August 22. This is part of The Great Getaway special. Now customers can stay at Hilton Garden Inn and wake up with a wonderful breakfast in bed for a great price.
"Save 15 percent when you stay at Hilton Garden Inn during The Great Getaway," said Anna Maria Carter of Hilton Garden Inn Livermore. "Our Garden Sleep System adjustable beds and complimentary Wi-Fi will ensure you'll never feel too far from home. Book your stay prior to August 22 and save at Hilton Garden Inn Livermore or stay at any participating hotel in the Hilton Worldwide portfolio for a savings of up to 40 percent."
Customers can stay at the participating Hilton Garden Inn hotels between May 27 and September 5, 2011 and enjoy a full cooked-to-order breakfast. Customers can order from the hotel's delicious breakfast menu which includes eggs, omelets, French toast, hash browns, bacon, sausage, and much more. Aside from its tasty treats, Hilton Garden Inn Hotel provides exceptional accommodations with a courteous and friendly staff that will welcome customers with a smile and provide the best service. Whether you are traveling for business or pleasure, staying for one night or for an extended stay, Hilton Garden Inn Livermore is the perfect place.
For more information, call 925-344-4169 or visit http://www.livermore.stayhgi.com.
About Hilton Garden Inn Livermore
For Business Travelers and Leisure travelers alike, The Hilton Garden Inn in Livermore provides comfortable corporate lodging and easy access to the San Francisco Bay Area. With a Banquet-Meeting Facility and Restaurant on its premises, Hilton Garden Inn Livermore is the perfect location for a corporate meeting, social gathering or extended stay.
###