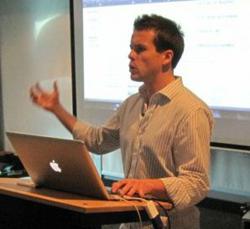 Our corporate SEO training teaches strategies that can lead to our clients dominating their niches online - quickly and over the long term
Melbourne, Australia (PRWEB) February 21, 2012
Melbourne SEO Services Director, David Jenyns, believes that it is way past time for businesses to recognise the need for their staff to undertake corporate SEO training.
"These days it goes without saying that every business should have a website" explains Mr Jenyns. "Astute business people know this, and already have an online presence, but whether their potential customers and clients can find those websites is a whole other matter."
In order to rank well with the search engines, like Google, there are very clear strategies that need to be implemented, both on the website it self (on page) and through third parties, e.g. networks, forums and social media (off page).
Melbourne SEO Services' new Corporate SEO Training brings those strategies to the training room, so that a businesses marketing, administration or public relations staff can discover what they are and how to implement them. They include:

Keyword research
Link building
Use of Social Media
Creating viral campaigns
Video marketing
Best practices
"Our corporate SEO training teaches strategies that can lead to our clients dominating their niches online - quickly and over the long term" said Mr Jenyns.
More information on the corporate SEO training offered by Melbourne SEO Services visit melbourneseoservices.com/seo-services-australia/
About Melbourne SEO
MelbourneSEOServices.com is a full service search engine optimization (SEO) consultancy, based in Australia, but with a worldwide client base.
Known for being at the cutting edge of strategic SEO practices, the company delivers a growing suite of services including: on-page and off-page search engine optimization, article distribution, Google Places listing, SEO press release service, web video production one-on-one consulting, and now corporate SEO training
Melbourne SEO Services Director, David Jenyns, has, over several years, built a team of experts who are niche experts to support the business, and who share his ethos for ethical, professional internet marketing.
More about David Jenyns at http://www.melbourneseoservices.com/seo-experts/
###