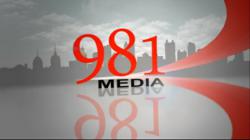 Burbank, CA (PRWEB) September 18, 2012
981 Media, a corporate video company in Los Angeles, is thrilled to announce their new corporate video production services. Many Los Angeles business owners are looking for ways to compete in today's market and wonder about marketing techniques that can be used to complement their websites. 981 Media addresses this need by offering multiple types of Los Angeles video production.
981 Media is launching its services for those in search of a corporate video company in Los Angeles. The company offers comprehensive video production services that include product demos, web series, corporate interviews, and case studies.
The amount of videos being watched on the internet each day is over 4 billion, which is nearly half of the world population itself. As a result, using online videos to showcase products and services can be a lucrative business move. Failure to utilize public interest in online videos can result in an immeasurably large loss of potential customers, but a good corporate video company can help with that.
981 Media is a corporate video company in Los Angeles that understands the importance of video marketing. They use Hollywood quality, high-definition cameras to film product demos, web series, corporate interviews, and case studies. Product demos allow a business to showcase their products and allow viewers to have an almost hands-on experience from the comfort of their home or office. Web series help businesses to avoid posting videos that contain overwhelming amounts of information or are overly long by releasing the information over the course of multiple, intertwining videos. Corporate interview videos can create a personal connection between the business and its viewers, fostering current client relationships as well as creating new ones. Video case studies allow businesses to present evidence as to how effective their product is at doing what is advertised, and are especially useful for businesses in the medical field.
981 Media has a longstanding devotion to the production of videos for Los Angeles business owners. This corporate video company strives to make videos that interest their audience so that they are interested in learning more about the products and services being offered.
981 Media is a Los Angeles Web Design Company that offers several unique services. They are ready to help business owners in the Los Angeles area use online videos to market themselves.
About 981 Media
981 Media serves companies who want the very best marketing tools around and specializes in using multiple forms of media to promote businesses. They offer award-winning web design, video production, corporate photography, mobile apps, and much more. They chose their name for its ability to represent what they give to their clients. The numbers 9, 8, and 1 mean completion, fulfillment, abundance, power, creativity, and confidence. 9 is also the square root of 81, and together they symbolize synergy and maximized outcomes. To learn more, give them a call at 877-981-6334 or get in touch at http://www.981media.com/contact-us.