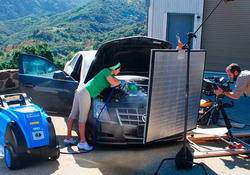 This allows customers to make a purchasing decision just by watching the video. They no longer ask for a live demonstration..."
Los Angeles, CA (PRWEB) October 25, 2010
Working with EKADOO, LLC, a video production company in Los Angeles with a prominent portfolio, Steamericas first examined a number of industry-specific product promotional videos and figured out the formats they did not want to use. Then, with the help of EKADOO's strong background in corporate video production, they got right to work on the project.
In order to create the ultimate impact while being memorable and concise, the company decided to focus on 3-4 main product objectives and competitive advantages in its video. These objectives included the Optima Steamer's product safety, great design, cleaning effectiveness and water consumption efficiency, as compared to a traditional power car wash experience.
According to Ryan Salkaln, Director of Sales, Steamericas, Inc., the video production service provided by EKADOO helped the company communicate the effectiveness of its products. "This allows our customers to make a purchasing decision just by watching the video," Ryan said. "They no longer ask for a live demonstration, and can go directly to ordering the Optima Steamer over the phone."
This corporate video starts with a bold product animation introduction in 3D, which serves as a strong statement of the new technology and reveals the product's tremendous visual design. The professional video production company suggested that the intro and closing animations serve as an independent branding spot that would wrap any corporate video-enclosed materials in the future. This includes an image of a young woman holding the Optima Steamer's nozzle to her hand, demonstrating that the steam stream is not too hot and will not burn the user.
"The main portion of the video was structured as an ongoing car wash competition between two beautiful girls, Christina and Vicky, where Christina operates the revolutionary new Optima Steamer," said Igor Tolstocheev, producer/creative director at EKADOO. "This provides viewers, primarily the male audience, with an unbiased and entertaining video experience, letting them decide if the product is the most effective technology at the end of the car-washing process."
EKADOO also added a second level of useful information to the video through linear graphics animations that appear over the main video timeline, synchronized cameras, split screens and multi-language narrations. These enhancements respond to questions regarding water consumption, steam temperature, dependence of the steamer nozzle distance from the cleaning surface and much more.
In addition, a few light and innocent jokes were added to the video's happy ending finale, causing viewers to crack smiles and finish their video experience on a positive note. The final version of the corporate video has been produced in full HD, Blu-Ray, DVD and YouTube formats, and has been released in both English and Spanish to serve North and South American audiences.
Yujin Yoo, Branch Manager of Steamericas, Inc. said that the elaborate project has greatly benefited Steamericas, Inc. "We saw a big increase in the sales inquiry volume once this video hit YouTube," Yujin said. "This is amazing, as usually live demonstration sessions are requested when promoting industrial products like ours."
About EKADOO, LLC:
Based in Los Angeles, EKADOO LLC is a leading independent provider of corporate video production services. The firm maintains two offices and serves clients in North America and Eastern Europe. For more than ten years, EKADOO has specialized in serving manufacturing, the health care and professional services industries.
For more on EKADOO, including the company's corporate video portfolio and case studies, visit company website http://ekadoo.com.
Media Contact: Igor Tolstocheev (310) 316-9068
# # #