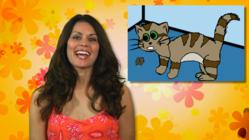 I woke up one morning to the sound of gagging and found Tabitha sitting over five large hairballs.
Burbank, CA (PRWEB) July 18, 2012
981 Media, in conjunction with actress Arloa Reston, is thrilled to release the second episode in their series, "Cat Chat with Arloa," available at CatChat.TV.
The feline health topic for today's Cat Chat episode is the dreaded hairball. Most, if not all, domesticated cats will have to deal with hairballs at some point because fur doesn't shed properly when cats are not exposed to the normal seasonal elements. These cats end up swallowing a significant amount of fur when grooming themselves. Hairballs are so prevalent that they are a common joke among cat owners. However, what some owners don't know is just how serious hairballs can be if not properly dealt with. In some cases, hairballs can cause severe intestinal blockages and result in death if not surgically removed.
Today's "Cat Chat with Arloa" episode examines the hairball epidemic and features Tabitha, Arloa's long-haired Maine Coon. Arloa tells us, "When I brought Tabitha home from the cat rescue, her hairball problem was pretty bad. I woke up one morning to the sound of gagging and found Tabitha sitting over five large hairballs." The episode follows Arloa and Tabitha as they search for a way to deal with Tabitha's hairball problem.
The episode also highlights Shining, a homeless cat rescued by a no-kill shelter as a kitten. As a result of the economic downturn in recent years, more owners have been surrendering their pets to shelters and fewer adoptions have taken place. Shining was rescued when she was only a few weeks old and has grown up in the shelter. She has been available for adoption for over a year, but has not yet found a home, despite the fact that she is a gorgeous cat with a sweet disposition.
"Cat Chat with Arloa" is an educational, but fun new series focused on finding simple remedies for cat health issues and on finding homes for rescued cats. New Cat Chat with Arloa episodes are available weekly on Wednesday mornings at CatChat.TV.
About Arloa Reston:
Arloa has been a professional actress for over 15 years in film, television and theatre. Her credits include Saurian (sci-fi channel), Another World, Days of Our Lives, Desperate Housewives, Ugly Betty, Joey, The Strange Case of Dr. Jekyll and Mr. Hyde and the upcoming feature, The Collection, among others. She has been owned by cats her entire life and volunteers with Cat Connection, a no-kill cat rescue in Sherman Oaks, California.
About 981 Media:
981 Media serves companies who want the very best marketing tools around and specializes in using multiple forms of media to promote businesses. As a website design company, they offer innovative websites, corporate video production, corporate photography, mobile apps, and much more. They chose their name for its ability to represent what they give to their clients. The numbers 9, 8, and 1 mean completion, fulfillment, abundance, power, creativity, and confidence. 9 is also the square root of 81, and together they symbolize synergy and maximized outcomes. To learn more, give them a call at 877-981-6334 or get in touch at http://www.981media.com