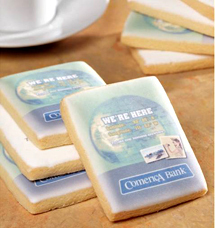 Be first on the block
Winchester, MA (PRWEB) October 23, 2009
Corporate gift givers seeking the most from their holiday business gift campaigns are shopping -and sending, earlier this year. With an eye toward standing out from the glut of year-end gifts, companies now see Thanksgiving as the best time to send their clients a memorable gift.
Marketing expert Donna Bender is among those recommending the "Be first on the block" approach for executives seeking corporate gift ideas; considering that custom gifts are proven tools for building relationships and retaining business. With the increasingly tough economic times, corporate gift givers from all business sectors are increasingly choosing "high impact, low cost" items over the more traditional choices. An example of this emerging trend is the giving of unique food items such as custom cookies or logo custom cakes.
"Thanksgiving is a natural time for a corporate gift." explains Stephen Pazyra, founder and president of 1-800-Bakery.com, an online retailer specializing in custom baked client gifts. "People are more rushed in December, and there are a lot of typical business gifts around, especially in offices. Thanksgiving isn't as busy and a well-timed food gift can be a welcome surprise that becomes the center of attention."
To get the most out of a client gift program, 1-800-Bakery.com offers these tips:
1. Be Creative: Recipients can be turned off by the typical mass-produced business gifts that feature your logo or an off-the shelf item with slapped-on customization. Choose a personalized gift that reflects your feelings of goodwill toward your customers.
2. Shop Early: Waiting until the last minute can limit your choices and increase your costs, as manufacturers may be at capacity. Save money on production and shipping costs by ordering early and allowing plenty of time for delivery.
3. Get Physical: Studies show that a tangible corporate gift sends a lasting message that a phone call or email cannot. Even sending a gift that is small and modest can make a big impact if it is personalized for the recipient.
4. Think Sharing: While you want to avoid overwhelming a single person with a giant gift, personalized sharable food gifts like custom cookies and cakes are a perfect way to encourage sharing, Save money by sending one sharable gift to an office rather than something to each individual.
5. Send Early: Stand out by sending a corporate gift for Thanksgiving. If you do a lot of business during the holidays, this is a great way to get your name or brand in front of your valued customers at the perfect time. Increase awareness about your business, people will spread the word about your company.
1-800-Bakery.com delivers custom cakes, personalized cookies, and other premium baked goods nationwide. The company specializes in unique corporate gift ideas for businesses of all sizes. Visit their website or call toll-free for more information: 1-800-287-9870.
Cited expert Donna Bender, was VP at Calvin Klein (licensing's best known pioneer); and currently specializes in promotional strategies and branded marketing for respected brands including Eddie Bauer, New Balance, and Major League Baseball.
# # #