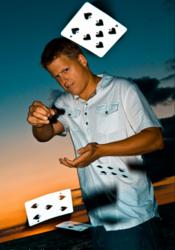 A popular corporate magician, Rick offers close-up magic and stage illusions.
Cleveland, OH (PRWEB) January 21, 2012
Magician and Guinness World Records holder Rick Smith Jr. will appear January 27th on ABC's hit series "Shark Tank" - where entrepreneurs pitch their business ideas for investment dollars.
Rick will present his plan to the "Sharks," which include Mark Cuban, Kevin O'Leary, Daymond John, Barbara Corcoran and Robert Herjavec. Smith will detail his desire to bring a family-friendly brand of entertainment to Las Vegas along with other local talent, including singer Tiffany Marchak, stunt juggler Billy Matsumoto and dancer Julian Mendez.
Will Rick and his team be heading to Las Vegas? Be sure to tune in to ABC and follow Rick as he stands in front of the "Sharks" at 8 p.m. EST on Friday, January 27th.
Rick has also been featured on 15 national television shows, including:

"The Ellen DeGeneres Show"
"America's Got Talent"
"Ripley's Believe It or Not"
About Rick Smith Jr.
Rick Smith Jr. caters to both young and old, working children's parties, local restaurants, and professional athletic organizations. For corporate magic, he focuses on sales presentations, national trade shows and annual events.
He is internationally known for his stunning card-throwing abilities and magical talent. A decade ago, he earned an entry in the Guinness Book of World Records by throwing a playing card 216 feet 4 inches. Today, Rick incorporates his amazing card-throwing feats into his act, slicing celery, bananas and carrots in half, wedging cards in watermelons, turning on food blenders or popping huge balloons filled with confetti, hitting targets up to 90 feet away.
A popular corporate magician, Rick offers close-up magic and stage illusions. He has performed thousands of shows for such clients as Coca-Cola, Ford, Exxon Mobil, Moen, Progressive, Lexus, and Sherwin Williams.
To learn more about Rick and to see where he is performing, visit ricksmithjr.com or http://www.facebook.com/ricksmithjrpage or follow him on twitter @RickSmithJr1
# # #