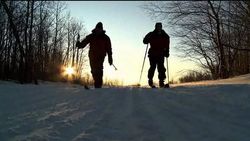 It's always a privilege to be honored by a panel of your peers.
Dedham, MA (PRWEB) February 23, 2010
A film created for the Appalachian Mountain Club by DigiNovations, a Boston-based video production company, won top honors for corporate video production last night at the annual Vista Awards from the National Professional Videographers Association of New England. It was the fourth consecutive year that a corporate video from DigiNovations won the Platinum Vista award, and the fifth time in the last six years.
The award honored a documentary film on the Appalachian Mountain Club's Maine Woods Initiative. "Experience the Maine Wilderness" was the first in a series of films that DigiNovations has produced documenting the club's extraordinary preservation effort in Maine's 100-Mile Wilderness -- the last hundred miles of the Appalachian Trail.
The film was produced by Bob Roche, videographed by Bill Charette, and edited by Mike Chapman. It was shot on location during the fall and winter of 2008 and 2009 in a remote area of central Maine, southwest of Mount Katahdin, which marks the end of the Appalachian Trail. Earlier this year, the film was honored three times in the annual TELLY Awards.
View the film, "Experience the Maine Wilderness"
"It's always a privilege to be honored by a panel of your peers," said Michael Kolowich, executive producer of DigiNovations. "Even more satisfying, though, was the visibility and interest generated by this film among AMC members and donors."
About DigiNovations
DigiNovations is an award-winning creative media production company based in Concord, Massachusetts. It specializes in corporate and institutional documentary films and corporate video production, and on the design and management of online video and internet TV channels. In conjunction with ChannelOne Marketing Group (http://www.channelonemarketing.com), the company helps organizations get more value from their video investments by creating, distributing, and marketing business videos using new media and social networking vehicles. The company also publishes the "Web Video Expert" blog on the world wide web.
###