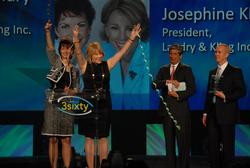 It's an honor to be recognized by TCI South Florida and FIU
Coral Gables, FL (Vocus) July 31, 2009
The Commonwealth Institute and Florida International University recently named Landry & Kling, corporate cruise specialists, among the ''Top 50 Women-Led Businesses in Florida.'' The Miami-based cruise meeting experts ranked #13 in the state.
"It's an honor to be recognized by TCI South Florida and FIU," said Joyce Landry, CEO, Landry & Kling. "This, plus our recent induction into the CLIA Hall of Fame (Cruise Lines International Association) at the Cruise3Sixty Gala dinner, fills us with gratitude for having been able to create a business in the cruise industry, where many women have achieved top leadership roles."
The College of Business Administration at Florida International University and The Commonwealth Institute (TCI) undertook this study to discover what distinguishes women who have made it to the top in Florida-based organizations. Nationwide, only 3% of top positions in organizations are filled by women although 50% of professional and managerial positions are held by women.
Women who are the senior executive or primary owner of companies or corporate subsidiaries with at least $1M in revenues or 25 employees were surveyed about their backgrounds, career progression, work habits, life choices, and motivation, along with their approaches to business strategy, operations, leadership, and personal development.
The study found that women-owned businesses are faring better in the down economy. One reason is that women tend to incur less debt so their businesses were less encumbered by financial obligations and stress. And, women are more optimistic about the future, which results in changing business practices to adjust with the times in order to retain good employees. They are less likely to cut staff as a first cost savings measure.
About Landry & Kling
Landry & Kling Inc. is a business-to-business resource founded in 1982 by Joyce Landry and Jo Kling to produce incentive cruises, full ship charters and all types of cruise events & meetings, team building, and business meetings at sea. In the fall 2009 they will introduce Seasite.com, the first online platform for cruise meetings and events. The company is based in Miami, the Cruise Capital of the World and is certified as a diversity supplier by WBENC (Women's Business Enterprise National Council). Find oceans of information at http://www.landrykling.com and http://www.seasite.com
About The Commonwealth Institute
The Commonwealth Institute is a dynamic non-profit organization founded in 1997 to help women entrepreneurs, CEOs, and senior corporate executives build successful businesses. The goal of TCI is to reach women leaders during critical stages of their business and to provide them with the tools and resources needed for growth. Since its inception, The Commonwealth Institute has worked with several hundred woman-led companies in New England and Florida. http://www.commonwealthinstitute.org
###