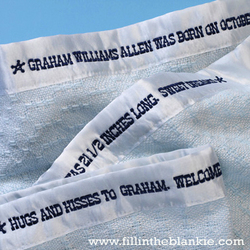 (It) just so happens that Fill In The Blankie does just that...Hallmark™ does it on paper-these guys do it on satin edges.
Dallas, TX (PRWEB) September 4, 2008
Today's economy is leaving the days of big bonuses, lavish retreats and client entertainment budgets in the past, and businesses are now facing the challenge of finding new ways to show their clients and employees their heartfelt appreciation. Fill In The Blankie offers companies the opportunity to make a lasting impression with their affordable, ultra-personal, gift giving solutions.
Traditional corporate gift giving has begun to leave many employees flat. Due to the need for businesses to tighten their proverbial belt, popular gifts in the past like flowers, wines and small cash rewards are steadily decreasing in value. Clients and employees are beginning recognize these gifts as just an easy cop-out to "knock out" the task of gift giving and get back to the bottom line.
These days, more and more corporations are beginning to realize that it's not just the thought that counts when showing their appreciation to the people who do the most for them. Generic gifts chosen by harried administrative assistants are being replaced with thoughtful, personal gestures designed to show just how much they truly care.
"In the marketing services business, our clients...expect us to be on top of trends, innovation and new technology. Part of our responsibility to our clients is to find innovative ways to get their messages to the right people at the right time," says Nowell Upham, Executive Vice President at The Marketing Arm. "(It) just so happens that Fill In The Blankie does just that...Hallmark™ does it on paper-these guys do it on satin edges."
A far cry from the boring monograms, trite greetings and impersonal platitudes that adorn most personalized baby products, an ultra-personalized blankie from Fill In The Blankie offers businesses the opportunity to welcome the newest addition to the families of their clients and employees with style. At Fill In The Blankie, heartfelt congratulations leap straight from the lips to be immortalized in up to 200 characters of embroidery, on two inches of silky satin edging, surrounding all four sides of a one hundred percent cotton blanket as soft as a mother's heart.
"When the recipient of your written words immediately goes to hold up one of those satin edges up to their cheek, you know you've touched their hearts," says Upham. "There's no better way to say we care to those important agency clients and personnel."
With over 25 unique fonts and 50 colors of thread to choose from, executives can use their personal sense of style to place their stamp on a practical and memorable heirloom that will commemorate baby's birth, and with Fill In The Blankie's new glow-in-the-dark thread baby can bask in the warm glow of appreciation all night long.
"It's all about making lasting impressions, even when times are tough," says Todd Lilly, president of Dallas-based Fill In The Blankie.
"Fill In The Blankie helps us treat our clients and employees (at The Marketing Arm) with the most thoughtful and memorable gift we've been able to find," adds Upham. "Our business is all about making lasting impressions-and there's no doubt that Fill in the Blankie does that for the people we care the most about."
Fill In The Blankie has always specialized in offering gift-givers the chance to welcome baby into the world with a gift that is both unique and completely personal, pioneering the ultra-personalized baby blanket to give co-workers, employers, friends and family the opportunity to tell both sides of the story-and then some.
For more information, go to http://www.fillintheblankie.com.
For further information, product samples, or interviews, contact Litany Brown at 214-969-7474 or litany(at)fillintheblankie.com
# # #