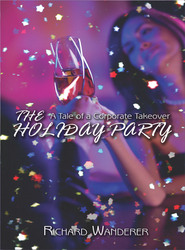 A sharply observed tale of workplace tyranny ... The author clearly knows this territory.
Los Angeles, CA (PRWEB) June 2, 2010
In his recent interview with Talking Books TV's Michelle Vandepas, Richard Wanderer, author of THE HOLIDAY PARTY (A Tale of a Corporate Takeover), was asked what inspired him to write his suspense genre, fictional novel. He said, "I felt strongly about the concept of 'corporate greed.'" Wanderer believes that too many organizations often sacrifice the livelihoods of human beings and their families, who have helped to build their business, as a quick fix to satisfy the demands of shareholders when times are tough and sometimes even when they aren't. The full 9 minute video interview can be found on the website of this suspense genre fictional novel at http://www.theholidayparty-ataleofacorporatetakeover.com .
In the novel, which is set in New York City, Los Angeles and Washington, DC, the reader follows the lives of employees of a benevolently family owned national magazine when it is taken over by a huge media conglomerate. Used to a caring and ethical ownership, the employees are suddenly confronted with a draconian regime of cost-cutting, micromanagement and heartless job losses. As a result of the change in management, the door is now opened to workplace predators, poisonous office politics and a downward trend in business. To add some extra "bling" to his novel, the author researched the Wicca religion and elements of it are found in the storyline.
Through one of the characters in the novel, a reader can learn what steps they may take when confronted with a corporate takeover. Richard Wanderer, Esq. knows the media sales business very well since he worked for many decades as an advertising space salesman for major magazines and newspapers in New York City and Los Angeles. Later in life, he studied law and is now a member of the California Bar. Despite the subject matter, the novel ends in an upbeat manner. Anita Finley, a columnist for the Miami Herald has called THE HOLIDAY PARTY (A Tale of a Corporate Takeover), "A real page turner." Kirkus Discoveries stated it is "A sharply observed tale of workplace tyranny. …The author clearly knows this territory."
http://www.theholidayparty-ataleofacorporatetakeover.com
###