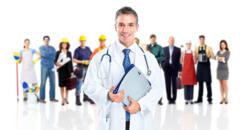 Tangible benefits of a corporate health initiative include: increased employee productivity, satisfaction and decreased employee absenteeism, turnover and health care costs
Ottawa, ON (PRWEB) September 19, 2012
"Functional Health and Fitness is able to call upon the expertise of physicians, dietitians, occupational therapists, chiropractors, personal trainers, chiropodists and others, working together to provide an integrated health solution package to proactive companies wishing to start or expand a corporate health program", points out Dr. Don Wilson, medical director for FHF. "Tangible benefits of a corporate health initiative include: increased employee productivity, satisfaction and decreased employee absenteeism, turnover and health care costs".
With a stable setting and established support system, corporate health programs are effective in promoting employee lifestyle change and improving personal health. "Well-designed programs have been shown to provide at least a two-fold return on investment to the employer, states Christy Griffin, Corporate Services Manager for FHF. "The fully bilingual team at FHF has helped individuals make lifestyle change to significantly improve their health and well-being. Whether we are leading health promotion and prevention programs, or assisting employees return to work faster after an injury or illness, the key to our success is the highly personalized FHF approach."
FHF provides safe, effective health and lifestyle programs customized to the needs of the organization as well as the individual. Many services such as personal training, group fitness, massage therapy, health seminars and ergonomic assessments are conveniently offered on-site, or even at the employee's home. All clients receive ongoing feedback through continuous monitoring and reassessment. All fitness programs and progressions are designed to respond to an individual's fitness profile and ability.
Employees are also able to gain access to up-to-date health content and self-help tools through the FHF seminar program, FHF newsletter and ad hoc health fairs and conference services. Further, the FHF website will soon offer such features as health tips, a health blog, how-to videos, articles on exercise and nutrition and healthy recipes, to supplement and enrich their lifestyle program with FHF.
"The most important element of disease prevention is a healthy lifestyle" confirms Dr. Wilson. "An individual who is active, strong and nutritionally aware, will feel and function better in their daily life, as well as in their life pursuits. An employee armed with accurate and reliable health information, will make better lifestyle decisions and proactive changes to maintain optimal health. Functional Health and Fitness is all about helping individuals achieve positive gains to their health; gains that FHF clients see through measurement and their own personal experience."
About Functional Health and Fitness
Functional Health and Fitness is an Ottawa-based health and lifestyle-focused organization dedicated to improving the health and fitness of its clients through customized personal training services, medical advice and nutritional counselling. Respected FHF health professionals including medical director Dr. Don Wilson and FHF dietitian Helene Charlebois, are experienced practitioners who adopt a client-friendly approach, while helping to achieve positive results. Their team of professionals rely on state of the art assessment tools to customize each and every health and fitness program to their client's needs and health profile. The Functional Health and Fitness Corporate Health initiative integrates an array of medical, allied health and information services into a cohesive program that will help employers better manage their employees' health needs.