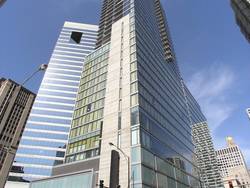 Having both four and five star options allows BridgeStreet to serve a greater variety of travelers while remaining an efficient and cost effective lodging option.
Herndon, VA (PRWEB) May 26, 2010
BridgeStreet Worldwide, a leading international provider of corporate housing, today announced the opening of new, spacious apartments in Chicago's vibrant River North area. The mixed-use, high-rise building combines 145 serviced apartments on top of a four-star, boutique hotel and trend-setting bar and restaurant.
"State & Grand by BridgeStreet represents a growing trend within the serviced apartment industry to provide more choice in property class and service packages," commented Lee Curtis, president and CEO of BridgeStreet Worldwide. State & Grand by BridgeStreet offers two tiers of accommodations: 4-star Serviced Apartments along with 5-star Residences. Guests of both tiers can expect the best of apartment living combined with hotel amenities. The Residences luxury tier was created for the travel connoisseur and includes larger floor plans, enhanced amenity packages and more personalized services.
"Having both four and five star options allows BridgeStreet to serve a greater variety of travelers while remaining an efficient and cost effective lodging option," continued Curtis. "We are very excited to present this innovative offering to our clients."
The property features sophisticated apartment accommodations with deluxe hotel services such as 24 hour front desk, concierge and in-room spa and dining options. Guests will enjoy the convenient amenities, including a state-of-the-art fitness center, year-round indoor pool offering food and beverage service and seasonal sundeck that creates a peaceful urban oasis.
Located on the top 18 floors of the building, the elegantly appointed accommodations boast floor to ceiling windows that serve up stunning views of the city day and night. Each apartment features wood floors and modern kitchens and baths with designer features and finishes. Wireless Internet access and a media console complete with high definition TV, DVD player and stereo give guests the modern in-room amenities they seek. The property's unique floor plans combine function and form into a perfect blend of residential living spaces. With sizes ranging from 627-827 square feet for one-bedroom, 1,050 & 1,390 square feet for two-bedrooms and over 2,200 square feet for three-bedroom apartments, State & Grand by BridgeStreet represents some of the largest serviced apartments available in downtown Chicago.
The building's prime location puts guests right in the heart of this spectacular city. The trendy River North neighborhood offers an eclectic mix of restaurants and bars as well as the largest concentration of art galleries in the U.S. outside of Manhattan. The property is within walking distance to world class shopping on Michigan Avenue, also known as the Magnificent Mile, in addition to many downtown businesses. Easy access to public transportation and major highways make this a convenient location for business travelers and relocating individuals and families.
For more information or reservations, please call 1-847-564-3000 or visit bridgestreet.com.
BridgeStreet Worldwide is a leading international provider of serviced apartments. BridgeStreet and its Global Alliance members offer over 15,000 corporate apartments located throughout the United States and 50 cities internationally. An award winner both in the U.S. and Europe, BridgeStreet properties meet uncompromising standards of quality, comfort and service. For more information about the company or to learn more about how BridgeStreet is Making Corporate Housing Easy, visit http://www.bridgestreet.com or call 1-800-BSTREET.
Press Contact:
Kelly Murphy – BridgeStreet Worldwide - US - +01 813 909 2445
###