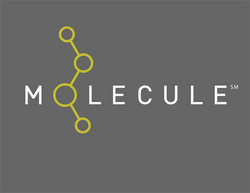 Most websites are a cacophony of visual elements, without hierarchy or organization
Atlanta, GA (PRWEB) October 30, 2007
Atlanta-based branding company, Molecule Brand Consultants, announces the launch of its new website. With its clean and minimalist design, the site reinforces the company's methodical and strategic approach to branding.
Molecule's core services: brand services, brand strategy, brand identity, brand standardization, brand implementation, and brand oversight, are global links on the home page. Case studies are uniquely organized by brand scenario: creating brands, revitalizing brands, extending brands, and managing multiple brands. Among the projects featured are solutions for IBM, Cox Communications, Blue Cross Blue Shield, and Coca-Cola.
"Most websites are a cacophony of visual elements, without hierarchy or organization," states Ted Fabella, principal and site designer. "The Molecule site is designed to minimize confusion, streamline navigation, and convey information clearly and concisely."
Founder and principal Ted Fabella is formerly creative director of Sapient, a global web consultancy, and Wages Design, a prominent corporate identity firm. In twenty years of professional experience, he has received over 100 industry awards from organizations such as the New York Art Director's Club, the National Addys, and the Society of Publication Designers. Fabella's work has been published in numerous periodicals, and in 2000 he co-authored the book "Identiy: Building Image Through Graphic Design" for Rockport Publishing. He served on the board of directors of both the Creative Club of Atlanta and AIGA Atlanta, and taught at the Atlanta College of Art and the Portfolio Center. Fabella has also been a guest speaker at Auburn University, Louisiana State University, The Massachusetts College of Art, The UCDA Conference, and The How Magazine Conference. He currently serves on the board of advisors at The Art Institute of Atlanta.
About Molecule Brand Consultants
Molecule Brand Consultants was formed in early 2006, offering branding and brand identity (aka corporate identity) services to new and established corporations. Molecule is based in Atlanta and can be reached by phone 404-441-3793 or by email info@moleculebrand.com.
###