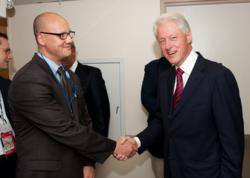 The Bodyguard, Esq.
Charlotte, North Carolina (PRWEB) April 29, 2013
Actor Will Smith's former Director of Security, Miguel R. San Jose, Esq. CPP, now practices federal data privacy and protection law for Corporate Security Law in Charlotte, North Carolina. The "security-expert-turned-lawyer" now assists businesses to avoid fines by the Federal Trade Commission (FTC) and other government entities for data breaches and non-compliance with data privacy laws and regulations.
Mr. San Jose is a retired New York City Police Detective and graduate of New York University. He left the NYPD in 2000 after working nine years in Harlem and attended law school at California Western School of Law in San Diego, California. After graduation he went into private security where he worked for a number of high profile individuals and celebrities including actors Johnny Depp, Nicholas Cage and Will Smith. Mr. San Jose later served as the Director of Security for the Blumenthal Performing Arts Center in Charlotte during the 2012 Democratic National Convention and provided security for numerous government officials and celebrities including former President Bill Clinton, actor Jeff Bridges and actress Rosario Dawson.
Combining legal expertise with front-end security planning, Mr. San Jose provides clients with comprehensive risk management strategies. He is a Certified Protection Professional (CPP) with ASIS International, the largest security trade organization in the world, where he received training in physical and information security.
Corporate Security Law is a federal privacy law practice serving businesses all over the country and around the world. They offer consultations, risk assessments, audits and workshops to help businesses avoid costly mistakes. Corporate Security Law is licensed in New Jersey and are based in Charlotte, North Carolina.
# # #
If you would like more information about this this topic, or to schedule an interview, please call (704) 257-1087 or e-mail inquire@corporatesecuritylaw.com.