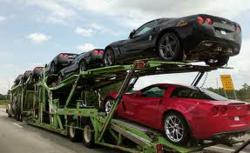 Great communication...
On time.
Portland, OR (PRWEB) September 23, 2011
In the last two years massive changes to the auto industry have been for the better. The reputation of the auto transport industry is on the rise and Corporate Auto Transport is proof of that! Statistics were taken from the latest Harris poll on twenty-two of the united states largest industries, Including the automotive industry. Consumers feel extremely positive about the direction the automobile industry is heading and believes the auto industry is doing a good job of serving their consumers.
The industries worst off included the Airline Industry, Tobacco Companies, Health Insurance Companies and Investment firms. The Auto Transport industry is one that is doing great though.
Within the last two years the reputation of the auto industry has been on the rise and proof of this is emerging with at least one company, Corporate Auto Transport. They are showing big signs of reliability and high customer service standards, this report comes at a time when other reports from other industry businesses are coming in poor. The reports are based on public perception.
With the internet bigger than ever consumers can easily find great deals on cars, trucks and SUVs and they don't have to be right around the corner from their house and they can ship them safe and timely as well. Auto Transport is growing faster than ever and consumers are taking advantage of the benefits. Dealerships are also increasing their bottom lines by focusing on long distance sales and more market exposure while keeping customer service top priority.
What impacts how consumers feel the most is the customer service that they receive from different companies involved in the auto industry. At Corporate Auto Transport they keep quality customer service in the forefront and that is what sets them apart from the competition in the auto transport sector of the industry.
"I feel that a bulk of our business comes to us just because of our great reputation in the Auto Transport Industry and our customers know we put them first. Quality is just as important, if not more important, as price to most customers," says Kyle downs, a Customer Service Rep at Corporate Auto Transport.
When consumers are asked how the auto industry treats its customers they are saying great things daily! Find actual consumer reviews at transportreviews.com
"I just purchased a rare car from a dealership in California. I was very happy with the customer service I received from Corporate Auto Transport. I thought that buying a car long distance would be very difficult but the sales person made it very easy and then put me in touch with Corporate Auto Transport. The car arrived in perfect condition just like expected and the customer service I received was excellent," says James courser from Buffalo NY.
"I was on vacation in Miami Florida when my car broke down. Instead of ruining my whole vacation with worrying about getting my car fixed at out of towner prices I contacted Corporate Auto Transport. They got my car picked right up within 24 hours and on its way back to Texas. Its like my worries became theirs and that kind of customer service is hard to find. My car was delivered to the dealership by my house and was fixed and ready for me to pick up when I got home. All around good customer service. I would definitely recommend Corporate Auto Transport to others," Jill Baker from Houston TX stated.
With proof of the automotive industry rising to new highs in customer service it seems a new refreshing feeling has taken over the Auto Transport industry and we can all now feel comfortable to ship our automobiles from coast to coast, especially with confidence in Corporate Auto Transport to get our vehicles from point A to point B safely and timely!
###