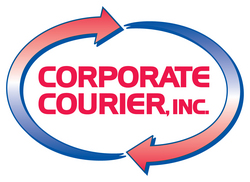 But more importantly it creates many new opportunities for us, opening the door to real growth in the future.
Owings Mills, MD (PRWEB) October 7, 2009
AirVersent today announces that Corporate Courier Inc., a major Wisconsin-based provider of critical 3rd Party Logistics services for medical, pharmaceutical, banking and other firms, has chosen AirVersent's 20/20 Delivery for 3PLs mobile supply chain software to coordinate and manage its fleet of drivers working out of 14 delivery hubs.
Initially deployed to solve a particular requirement of one of Corporate Courier's own customers for electronic Proof-of-Delivery (ePoD) of vital medical supplies, the AirVersent product will quickly extend to offer the same capability and more across the courier firm's entire customer base. It replaces a previously wholly paper-based business process.
"As well as solving our immediate requirement for ePoD with a single customer it means we can further enhance services for every one of our customers," explains Corporate Courier President, Terry Knutson. "But more importantly it creates many new opportunities for us, opening the door to real growth in the future."
Announcing the deal Mike Lee, AirVersent's CEO, said: "As more and more large corporations entrust their supply chains to third party providers, so the demand for visibility and control is increasing. By replacing error-prone paperwork with wholly automated workflows, AirVersent's products dramatically improve efficiency and cash flow while affording complete oversight of the mobile supply chain."
20/20 Delivery for 3PLs is a Software-as-a-Service (SaaS) product specifically engineered for mobile supply chain businesses. With SaaS there is no software or infrastructure to buy and install, no custom programming to carry out and no ongoing systems management and maintenance overhead. Instead user organizations pay only a subscription fee for each mobile worker on the system.
20/20 Delivery for 3PLs is fully configurable by user organizations to fit their exact business needs and work practices. The look and feel of the mobile applications, the data items used and workflows are all fully configurable to meet individual operational requirements.
About AirVersent
AirVersent provides visibility and control across the mobile supply chain, replacing costly, error-prone paper-based processes with an automated workflow that improves cash flow, protects revenues and ensures compliance. Reliably connecting mobile workers to back-office systems, AirVersent's Software-as-a-Service products help companies to increase productivity and efficiency, and gain critical insight to improve business performance. With more than 10 years experience, AirVersent has deployments in 20 countries, in 15 different languages. For further information visit AirVersent's web site or call 800.854.0473.
About Corporate Courier
Established in 1989, Corporate Courier Inc. is headquartered in Eau Claire, WI, and specializes in customized and dedicated route services for a broad range of companies across Wisconsin, Minnesota, North and South Dakota and Iowa.
For more information visit Corporate Courier's web site
###