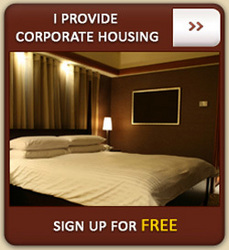 The Corporate Housing Network was born out of the mounting frustration among the corporate housing and executive rental suite community three years ago
Cleveland, OH (PRWEB) October 27, 2009
Until now, providers of corporate apartments, furnished condos, or temporary housing who did not have an accommodation match for their clients played financial roulette. Owners were willing to lose up to eleven months of vacancy simply to deter their client from contacting their competition. The Corporate Housing Network makes all of this unnecessary. The Corporate Housing Network now offers providers of corporate housing and executive furnished suites the ability to share up-to-date inventory on a powerful search and booking platform. TCHNetwork.com is a turn-key solution: the infrastructure keeps corporate suites and extended stay units booked; removes the fear of losing a client to competition; and allows furnished apartments owners to share inventory - subsequently increasing profits.
"The Corporate Housing Network was born out of the mounting frustration among the corporate housing and executive rental suite community three years ago," says Kat Fotheringham, CEO and Co-Founder of TCHNetwork.com. Traditionally, when a client had a short term need that the provider could not accommodate, corporate housing companies would be forced to sign a long-term property lease (typically twelve-months) on behalf of a client who only needed to book a short term (thirty-day) stay. "Or, you would find sales teams literally opening up the yellow pages, mundanely calling apartment communities and competitors one-by-one to ascertain who had available short term leases," says Erin Bozan, President and Co-Founder of The Corporate Housing Network. "However, committing to a short-term lease directly through a property or competitor typically warranted an inflated price," added Bozan.
Instead of wishing there was an online solution that had immediate search and book results, "We just sat down and developed it," says Bozan and Fotheringham, in unison. These two former corporate housing colleagues left their comfortable careers and joined forces several years ago. The result? An effectively executed online, real-time tool for providers of furnished, corporate rentals to connect - and most importantly - network with each other.
Ironically, after TCHNetwork.com launched in February of 2007, the site took on a life of its own. "My initial impression was that I would now share my inventory with other providers, as well as obtain matched leases from my competitions' inventory - which equates to minimal vacancy exposure," said Louise Ritley with Corporate Apartment Partners of America. "I soon learned that that my Membership not only allowed me to engage in networking, but my inbox was suddenly inundated with requests for housing from relocation companies, the government and military, traveling consultants, insurance companies, and the entertainment industry," Ritley added.
Another feature that advertisers love - whether they are owners of corporate housing or vendors to the extended stay, corporate apartment, or vacation rental industry - is the ability to advertise their logo on a very clean interface. "Not only are their advertising rates the lowest I have ever seen, but since I've placed my logo on TCHNetwork.com, I have fully captured and targeted a highly qualified audience who are a direct match for my services," says Cheryl Donato, a National Multifamily Trainer & Speaker, of Apartment Performance Training Solutions. Other companies who hugely capitalize on The Corporate Housing Network's highly target online viewership are furniture rental companies, relocation companies, utility companies, locksmiths, divorce attorneys, cleaning services, rental cars, airlines, and background/credit check companies.
About The Corporate Housing Network (TCHNetwork.com):
TCHNetwork.com offers real time availability alternatives for thousands of short term, furnished housing options. The Corporate Housing Network's international network of temporary corporate housing providers offer furnished accommodations from apartments and condos to single family homes and vacation rentals -- all over the world. There is never a charge to look or book corporate housing] on The Corporate Housing Network.
###