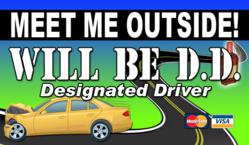 After the October 7, 2011 Release via PRWeb, media by the masses have been in touch, which has been delightfully shocking.
Waldorf, Maryland (PRWEB) October 09, 2011
What HR Executives Need to Know: Maryland Adopts Minimum Penalties for Repeat Offenders for Driving While Intoxicated
Will Be Designated Driver, Inc. and its members, James V. Will and Seanna S. Smallwood opened their company in May of this year with anticipation of the enactment of the Repeat Offenders law by Maryland Legislature (Refer to Senate Bill 53).
The NHTSA issued Grant Opportunities for State projects relative to alcohol-impaired driving countermeasures. The funds issued by DOT and NHTSA are made directly to States with State Highway Safety agencies as beneficiary. Will Be D.D. (designated driver) has launched the business of public transportation specifically for alcohol-impaired drivers and is seeking National support from alcohol establishments, corporations, citizens, and State and Community funding for growth initiatives. These support constituents are sought on a National level as the Capacity Building Program distributes funds to those Charters across the U.S.
The marketing plan is aggressive and is the "Purple Cow." After spending over 500 hours researching Grant opportunities, spending thousands of dollars on Grant coaches and mentors, Seanna Smallwood, President of the organization has come up with a genius B2B joint marketing plan that is an excellent strategy for HR Departments of Fortune 500 & 1000 firms, and any company within all 50 States and Washington, D.C. This opportunity should be specifically made available to financial advisors. The opportunity was identified through the IRS Section 7520 rate, which is used for a number of charitable planning techniques. Furthermore, the membership opportunity as an employee benefit sends the powerful message of drinking responsibly and social responsibility within their corporate culture.
"The proposal to Fortune 1000 firms was sent directly to the HR Executives for those organizations via US Mail with not one single reply. We wrote it off as an oversight due to Hurricane Isabel. After the October 7, 2011 Release, media by the masses have been in touch, which has been delightfully shocking." ~ Seanna Smallwood
Will Be Designated Driver, Inc. realizes they are the "little guy" compared to the large firms. The objective is to think "outside of the box" for strategic marketing ideas that will fund their organization so they may grow to the true potential. After countless hours and numerous dollars spent, they've learned two important things:
1. The squeaky wheel gets the grease; and
2. "The Purple Cow" gets seen and heard.
With these two important lessons in mind, they are prepared to propose a marketing plan as an excellent PR and Marketing Program for your firm.
Potential Corporate Sponsors thus far include some of the following firms:

They would like to meet with any interested persons immediately.
CONTACT:
Seanna Smallwood
301-399-3764
Email: ScoopMe(at)willbedd(dot)com
Fiscal Sponsor: http://www.DrinkingandDriving.org
###