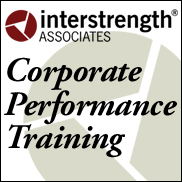 We start with the client's basic need and completely customize each workshop to reflect the company culture, industry and specific business issues
Fountain Valley, Calif. (PRWEB) October 2, 2006
Interstrength® Associates (http://www.interstrength.com), today announced the launch of its Corporate Performance Workshop Series that includes Business Performance, Leadership Performance and Performance Boosters and combines business applications with the power of its signature personality type models: Temperament and Interaction Styles. Customers can now choose from a variety of workshops that address common workplace challenges such as dealing with remote workers, giving effective feedback and navigating change. One standout is the New Manager Institute that provides critical core skills for those new to leadership roles.
"We can do one workshop, act as an ongoing extra training resource or set up an all inclusive 'corporate university' for our clients," says Kris Kiler, President of Interstrength Associates. "We have a very talented group of faculty and curriculum designers that collaborate to build custom solutions based on a client's needs." And for those clients who want to perform all training using in-house resources, Interstrength offers a licensing contract in which key in-house staff are trained and then provided with all the tools necessary to deliver any of our proprietary workshops.
The workshops were designed as a result of extensive research to identify the top workplace issues. "We start with the client's basic need and completely customize each workshop to reflect the company culture, industry and specific business issues," says Kiler. "If we don't have a workshop that meets a client's needs, we design a new one that does."
The new Corporate Performance Workshop series;
Groundbreaking Sales® I: Connecting for Results
Groundbreaking Sales® II: The Power of Understanding Core Needs
Five Essentials for Building High-Performance Teams
Creating a Collaborative Culture: Improving Results by Pulling Together
Embracing the Future: Successfully Navigating Change and Transition
Working Remotely: How to Stay Connected and Effective
New Manager Institute™: Core Skills Development Series
Inspiring Excellence: Developing Peak Performers
Leading the Charge: Maximizing Gains and Minimizing Grief of Change and Transition
If You Can't See Them, How Can You Lead Them?: Effectively Managing Global and Remote Teams
The Communication Zone® I: The Power of Interaction Styles
The Communication Zone® II: The Temperament Advantage
Perfecting Connecting®: Strategies for Networking in the Workplace
Catalyst for Innovation: Secrets for Increasing Creativity
Creating Conflict-Resistant Teams: Tools for Managing and Resolving Conflict
"You Said What?": The Art of Giving Feedback
The foundation for Corporate Performance Workshop Series is the Temperament and Interaction Styles models which are part of the overall Interstrength™ Method. Using the models provides a context for understanding natural personality diversity and appreciating and valuing personality differences. The models describe natural preferences that lead to various ways of perceiving and ways of deciding that are often critical for an organization's success yet, if not understood, can be the primary source of misunderstandings and miscommunications. Through The Self-Discovery Process® the Interstrength® facilitator creates a safe environment for individuals to explore, understand, and apply natural preferences. These models are easy to understand, remember and use.
Interaction Styles Model
Interaction Styles provides easily recognizable information about how people interact and influence each other and how they function effectively in teams. This model identifies powerful drives and underlying beliefs that help develop rapport and strengthen collaboration.
Temperament Model
This model provides profound insights into people's deep motivations, core psychological needs, core values, talents and communication patterns. This model provides a map to different perspectives and approaches to problem solving, creativity and communication
About Interstrength Associates
Interstrength® Associates is a training company dedicated to serving those seeking to maximize their individual and organizational results. We facilitate more accurate self-knowledge and knowledge of others that directly translates into more effective leadership and teamwork. Our approach is to maximize the contribution of each individual by giving them the keys to their personal power tools—understanding interaction styles and temperament models. We build each of our workshops on a foundation of the Interstrength® Method, a proprietary blend of these powerful models and proven adult learning principles customized to meet the needs of each client.
On the Web: Interstrength Associates
Contact Information
Deb Dominguez
Interstrength® Associates
714-625-7411
###