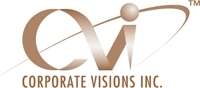 With this acquisition, Corporate Visions and CMM Group will have literally bridged the gap between sales and marketing
Incline Village, NV (PRWEB) August 5, 2008
Corporate Visions, the leading sales messaging consulting and training firm, announced today that it has acquired CMM Group, the leading provider of marketing messaging and communication services. Together, the two organizations will create the industry's first combined marketing and sales messaging, consulting and training company. The move comes at a time when companies are aggressively seeking better alignment between their Marketing and Sales departments in order to improve business performance.
Corporate Visions has made a name with their Power Messaging® and Power Positioning™ approaches for improving sales messaging and communication skills. CMM Group is recognized for developing the Customer Message Management® process for creating customer-relevant marketing messages and helping marketing create more sales-ready communication tools.
"With this acquisition, Corporate Visions and CMM Group will have literally bridged the gap between sales and marketing," explained Joe Terry, President of Corporate Visions. "Our integrated solutions will truly be one-of-a-kind and meet an increasing market demand."
3-Foot Level Customer-Focused Messaging:
The new direction of Corporate Visions is to focus on integrated marketing and sales solutions primarily referred to as the "3-foot level" customer message instead of the "30,000-foot level" brand message. "Most companies have made an effort to identify their brand, but continue to struggle with taking those messages to the streets," said Tim Riesterer, former CEO of CMM Group, now SVP of Strategic Consulting and CMO at Corporate Visions. "Business clients are known to make brand purchase decisions based on their interactions with a company's field sales person. So, if you don't bridge your brand marketing messages into a customer-focused message that can be delivered effectively by your sales people, your brand efforts are at risk."
Leading industry analyst firm, Sirius Decisions, reports that the "inability of salespeople to communicate value during customer interactions" is perceived by executives as the number one inhibitor to sales success. "We know that's a marketing and sales problem; not just one or the other. And we've come together to solve that issue," said Diane Emo, former president of CMM Group, now SVP of Products and Learning at Corporate Visions. "Traditionally Sales and Marketing have worked in silos. By combining Corporate Visions and CMM we will be able to provide a completely integrated solution that spans both departments, focusing them on the same goal to make the most out of these powerful resources.
Marketing and Sales Alignment Leadership:
"Both Corporate Visions and CMM's clients were looking for vision and leadership in helping bring marketing and sales together," said Joe Terry, President of Corporate Visions. "Our clients were asking us to produce marketing messages and materials to reinforce the sales skills we are teaching. CMM's clients were asking them to provide sales training and ensure sales adoption of the messages and tools they developed. As a result, our traditional competencies were being pushed towards each other."
"Now we are setting an example that sales and marketing really can be fused and we're establishing an industry best practice for how the two should work together,'' Terry commented. "If your company is looking to better integrate marketing and sales, why not work with a consulting firm that's already done it themselves."
About Corporate Visions Inc.:
Corporate Visions' unrivaled end-to-end solutions help companies stand out. We work with executives, sales and marketing professionals to create one cohesive company story that will ignite a fire within their prospects to make a buying decision in their favor. Our clients are globally recognized companies like CareerBuilder, IBM, Fidelity, Volvo Trucks, CA, Hobsons and many more. We work with them to create memorable customer-focused messages and provide the tools and skills necessary to put the message to use immediately. With Corporate Visions' integrated consultancy solution, companies can focus on the customers' needs and the critical moments of truth at every stage of the customer life-cycle. For more information contact us at http://www.CorporateVisions.com or by calling 775-831-1322 or 800-360-SELL.
Corporate Visions is a registered trademark of Corporate Visions Inc.
###