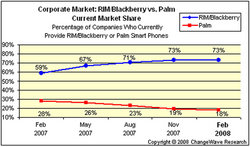 continuing to take the smartphone market by storm.
Rockville, MD (PRWEB) February 28, 2008
In a January survey of consumer smartphone users, ChangeWave reported that Research in Motion's (RIMM) BlackBerry was "continuing to take the smartphone market by storm."
Now the latest ChangeWave Research numbers are in on the corporate side of the smartphone ledger, and once again the clear momentum winner is RIM.
As part of a February 11-15 corporate IT spending survey, ChangeWave asked respondents involved with IT spending decisions in their organizations who the manufacturer was of the smartphones their company currently provides.
Nearly three-in-four respondents (73%) cited Research In Motion as the manufacturer of their company's smartphone.
While the RIM percentage is unchanged from the previous corporate smartphone survey in November 2007, Research in Motion's market dominance over arch rival Palm (PALM) has continued to expand.
As the chart here shows, the Treo maker came in at 18% - a 1-pt decline that represents just the latest hit in a gruesome year-long slide.
(The attached chart, along with additional ChangeWave Corporate Smartphone survey findings, can be downloaded at changewave.com/smartphone.)
Customer Satisfaction
While Apple (AAPL) still has a relatively small share of the corporate smartphone market (5%), the company's iPhone continues to grab sky-high satisfaction ratings. Nearly three-in-five (59%) of Apple's business customers say their company is Very Satisfied with the Apple iPhone.
RIM Blackberry ranks second with a Very Satisfied rating of 47%, though the survey notes this represents an unusually large 8-pt decline from the previous measure.
Palm receives its lowest corporate satisfaction rating in a ChangeWave survey yet, with only 10% of corporate users saying their company is Very Satisfied with the Palm Treo.
Future Corporate Smartphone Buying
Looking ahead to the 2nd Quarter, RIM (77%) is the dominant leader in planned corporate buying of smartphones - having jumped 3-pts since the previous survey in November. Apple (11%) is second, down 3-pts from its previous high.
Palm (8%), Motorola (7%) and Samsung (4%) have each experienced a 2-pt decline in terms of planned corporate buying, with each company registering its lowest level of the past year.
"What we have here is a huge and still growing market share lead for Research in Motion that, for the moment, appears near invincible," said Tobin Smith, founder of ChangeWave Research and editor of ChangeWave Investing. "However, at the same time, we've picked up an unusual 8-point decline in the percentage of corporate customers who say they are Very Satisfied with their RIM Blackberry smartphones, which may mean there's a problem brewing for the Canadian manufacturer."
________________________________________________________________________
About ChangeWave:
ChangeWave runs a proprietary network of 15,000 highly qualified business, technology, and medical professionals in leading companies of select industries -- credentialed experts who spend their everyday lives working on the frontline of technological change. ChangeWave surveys its members on a range of business and investment research and intelligence topics, collects feedback from them electronically, and converts the information into proprietary quantitative and qualitative reports.
To receive regular insights from ChangeWave on emerging technology trends and companies, go to: changewave.com/hotwire.
###