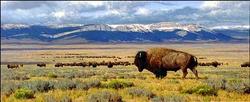 Corpus Christi, TX (Vocus) December 10, 2009
Connecting both visitors and residents with the beauty of wildlife, as well as exploring humanity's relationship to nature, are the goals of the Wild at Heart exhibition coming in January 2010 to the Art Museum of South Texas. Included in this new exhibition are 58 paintings and 14 sculptures, drawn from the Permanent Collection of the National Museum of Wildlife Art (NMWA) in Jackson Hole, Wyoming. The Museum overlooks the 25,000-acre National Elk Reserve and is on route to the Grand Tetons and Yellowstone National Park. As habitat reduction and environmental issues have become more widely studied, representations of wildlife are increasing in popularity not only with naturalists and educators, but also with the public in general.
In this new exhibit at the Art Museum, North American wildlife is depicted by some of the finest historic and contemporary American artists, as well as by acclaimed artists from other countries. These include Albert Bierstadt (Germany 1830-1902), Robert Kuhn (American b. 1920), and Kent Ullberg (Sweden b. 1945). The variety of artists included is a testament to the powerful attraction of our American wilderness areas and wildlife populations to world travelers.
Accompanying presentations by Dr. Matthew Wagner, Wildlife Diversity Program Director for the Texas Parks and Wildlife Department, and Adam Duncan Harris, PhD., Curator of Art for the National Museum of Wildlife Art, are planned.
For more information, contact Cynthia Anderson at the Art Museum of South Texas at 361.825.3513 or Cynthia(dot)Anderson(at)tamucc(dot)edu.
###