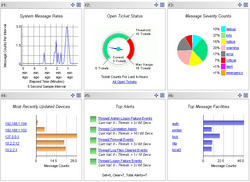 Naples, FL and São Paulo, Brazil (Vocus) August 4, 2009 —-
CorreLog, Inc., a provider of enterprise-class log management and proactive security correlation, today announced that they have entered a reseller agreement with Mainwork Software. Mainwork, based in São Paulo, Brazil, supplies customized IT solutions, software products and consultancy projects that manage and improve IT systems and databases. Under the terms of the agreement, Mainwork will market and sell CorreLog event log management and correlation solutions and services throughout South America.
"With the prevalence of the mainframe, the CorreLog mainframe agent is very popular in South America. Mainwork has a proven track record in providing world-class solutions to many of Brazil's organizations that are concerned about correlating event logs from disparate platforms and data sources," added Faucher.
CorreLog is advanced data aggregation, real-time correlation and searching and indexing of Syslog data and other messages. CorreLog integrates easily with mainframes, Windows/UNIX and other platforms in just a few minutes or less. The CorreLog security and log management system provides a fully web-based, enterprise level message logging system that lets customers index and correlate event-log data in real time.
Mainwork Director German Diaz said, "We are extremely pleased to have CorreLog solutions in our tool box. Our customers have event logs coming from several sources including mainframes, routers, Unix and Windows boxes, and many other sources. CorreLog correlates this data and allows them to take action on events related to the security of their entire environment no matter where the data originates from."
CorreLog Benefits Include:

Understanding and pinpointing security risks throughout the network
Supporting regulatory compliance, including Sarbanes-Oxley, HIPAA, PCI/DSS, FISMA, FERPA and others
Providing efficient event and syslog analysis; whereby reducing system downtime, increasing network performance, and tightening security policies
Reducing data management complexity
Avoiding security attacks with in-depth incident responses
Determining unauthorized access attempts and other policy violations
Honing in on applications that cause performance and security problems
Identifying trends in user activity, server activity, peak usage times, and more
Automating compliance and auditing reporting
Detecting insider threat/fraud
Responding to security incidents
Obtaining useful event, trend, compliance and user activity reports
Free, 30-Day Evaluation
Download CorreLog for Windows 200x, XP, and Vista systems. NOTE: the CorreLog server system is designed for easy installation. A typical installation does not require the host platform to be rebooted and can be performed in less than five minutes. Download a free, 30-day evaluation.
About CorreLog, Inc.
CorreLog, Inc. delivers security information and event management (SIEM) combined with deep correlation functions. CorreLog's flagship product, the CorreLog Security Correlation Server, combines log management, Syslog, Syslog-NG, SNMP, auto-learning functions, neural network technology, proprietary semantic correlation techniques and highly interoperable ticketing and reporting functions into a unique security solution. CorreLog furnishes an essential viewpoint on the activity of users, devices, and applications to proactively meet regulatory requirements, and provide verifiable information security. CorreLog automatically identifies and responds to network attacks, suspicious behavior and policy violations by collecting, indexing and correlating user activity and event data to pinpoint security threats, allowing organizations to respond quickly to compliance violations, policy breaches, cyber attacks and insider threats. CorreLog provides auditing and forensic capabilities for organizations concerned with meeting SIEM requirements set forth by PCI/DSS, HIPAA, SOX, FISMA, GLBA, NCUA, and others. Maximize the efficiency of existing compliance tools through CorreLog's investigative prowess and detailed, automated compliance reporting. CorreLog markets its solutions directly and through partners. Visit CorreLog for more information.
About Mainwork Software
Mainwork Software is a Brazilian company, formed by IT senior consultants with particular competencies to supply customized solutions, software products and consultancy projects to manage and improve IT systems and databases.
Mainwork acts in IT Corporate Governance, IT Infrastructure Management and Operations, Information Security, Database Performance, Metadata Management, and offers consulting, software support and professional services.
The Mainwork team assists in projects and solution implementations to solve the inherent problems of IT infrastructure complexity, servers, networks, applications, IT security, databases, and services to support the corporate business. Visit Mainwork for more information.
###