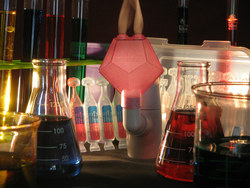 I have patients call me everyday telling me that this is the only therapy that has ever worked for them
Camarillo, CA (PRWEB) October 17, 2007
Aerosol Science™ Laboratories ASL Pharmacy announces today sequential aerosol therapy administering corticosteroids and Amphotericin B produces positive patient outcomes. At the recent AAO-HNS convention in Washington DC, several leaders in the industry indicated that Chronic Sinus Infections could be the result of a specific inflammatory response to allergens within the sinus cavities. In addition to topical corticosteroids, evidence was presented indicating Amphotericin B may also possess certain anti-inflammatory properties.
ASL Pharmacy™ (a pharmacy specializing in sinus medications) has observed in patients positive responses to aerosolized corticosteroids such as Betamethasone, Budesonide and Mometasone followed by Amphotericin B. This aerosolized intranasal therapy is an easy to use alternative approach for successfully treating inflammation. These observations augment a growing body of evidence that supports topical medications for the treatment of the inflammation associated with CRS, AFS, PAR and Sinus Polyps.
What makes aerosol therapy unique is that patients inhale their medications through their noses for better medication deposition into their sinuses. The medication "mist" is only 3.1 microns in diameter, which is literally 50 times smaller than the typical spray bottle. The medication travels directly to the site of infection so more medication treats the inflammation and less medication is absorbed into the body.
"I have patients call me everyday telling me that this is the only therapy that has ever worked for them," states Cal Tarrant, CMO for Aerosol Science Labs. "When patients have tried traditional therapies, like high dose oral meds, spray bottles or irrigations and have not seen positive results, aerosol therapy starts to make a whole lot of sense for patients with chronic sinusitis."
Following are a few facts regarding ASL's sequential aerosol therapy:
a.Dose: 0.25-0.6 mg (steroid) and 5-10 mg (anti-fungal) - Initial Tx BID to TID x 21 days
b.Tx Time: Each individual dose aerosolizes in approximately 2.5-3.5 min. respectively These sequentially administered meds aerosolize in approximately 6 min.
c.Deposition: Aerosolized Amphotericin B stays in the sinuses and does not flow out, which improves medication deposition and patient compliance
d.Compliance: We have observed excellent patient acceptance of prescribed dual therapy resulting in successful patient outcomes
e.Frequency: TID dosing including an easy to administer "mid-day" dose equates to less than 20 minutes per day
f.Maintenance: When symptoms subside, patient may be maintained on an anti-inflammatory at a reduced frequency
Aerosol Science™ is excited to share their observations, which concur with and support recent industry developments and physician opinion. Please visit Sinus Science or give our office a call at 866-552-7579 to find out more about aerosolized topical intranasal sinus medications. Our therapies require a prescription, are covered by most drug plans and can be shipped directly to patients overnight.
About Aerosol Science Laboratories Inc. and ASL Pharmacy:
Aerosol Science Laboratories Inc. is a privately held specialty pharmacy, which makes compounded sinus medications specifically for patients with Chronic Sinusitis. All dispensed medications require a prescription, which are usually written by ENTs and Allergists. However, any MD, DO, DDS or NP may write this prescription. For more information contact: Cal Tarrant @ 866-552-7579 x223, Aerosol Science Laboratories, Inc., Camarillo, CA.
###