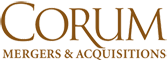 Zeacom's management team balanced growth, innovation, and profitability and were able to attract strong interest.
Bothell, WA (PRWEB) June 04, 2012
Software Mergers and Acquisitions specialist Corum Group Ltd. today announced the acquisition of its New Zealand-based client Zeacom Systems Limited ("Zeacom") by Enghouse Systems Limited, a leading global provider of enterprise software solutions, for a purchase price of US$30.6 million, subject to certain price adjustments.
According to Corum's Nat Burgess, who led the transaction, "Zeacom's management team balanced growth, innovation, and profitability and were able to attract strong interest from the private equity community. Their hard work, and the smart decisions they made along the way, paid off when several strategic buyers preempted the recapitalization process."
For Burgess, the Zeacom deal is confirmation of several important trends. First, Zeacom recognized the growing influence of Microsoft's Lync platform in the telephony sector, building value by investing in the overall transaction from traditional PBX infrastructure to software servers. Second, cross-border transactions are on the rise. The Zeacom transaction bridged Canada and New Zealand, and came on the heels of Corum transactions over the last few months in South Korea, Canada, Ukraine, and France. Third, the Zeacom process confirms the value and efficacy of a parallel process, where all options, including strategic and financial, are fully vetted.
About Corum Group
Corum Group has sold more privately held software, IT and related technology companies than anyone in the world in the last 26 years. Corum has done this by utilizing a team approach to each engagement, led by the industry's top dealmakers, themselves former CEOs and owners of tech companies. These executives have the highest success rate in the industry, having generated over $7 billion in client wealth.
About Zeacom Group Limited
Zeacom is a leader in communications solutions that deliver Multimedia Contact Center, Business Process Automation and plug-in Unified Communications functionality that bring customers closer. Established in 1994, every day more than 3,500 sites rely on Zeacom's enterprise-class solutions to improve the customer experience, increase productivity and understand their communications workflows. A managed Independent Software Vendor (ISV) on Microsoft Lync, Zeacom has partnered with NEC for 17 years, is a Cisco Premier Partner and a registered member of the Avaya DevConnect program. The company has partners and offices in North America, Northern Europe and Asia Pacific. For more information, please visit http://www.zeacom.com.
About Enghouse Systems Limited
Enghouse Systems Limited is a leading global provider of enterprise software solutions serving a variety of vertical markets. Its strategy is to build a large diverse enterprise software company through strategic acquisitions and managed growth. Enghouse shares are listed on the Toronto Stock Exchange. Further information about Enghouse may be obtained from its web site at http://www.enghouse.com.