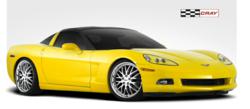 Corvette owners are performance fanatics, that's why we've gone to such great lengths to precision engineer Cray wheels, then perfect manufacturing processes that enable us to hold very tight tolerances
Huntington Beach, CA (PRWEB) May 01, 2012
Massive horsepower and aggressive suspensions put special demands on Corvette tires and wheels. Achieving maximum performance requires that wheels be precisely the right diameter, width and offset, both front and rear. Cray Corvette Wheels http://www.craywheels.com has responded to these demands with a lineup of high performance aftermarket Corvette Wheels engineered specifically for each model and year Corvette. That means Corvette owners are assured of just the right wheel package whether they are in the market for C4 Corvette wheels, C5 Corvette wheels or C6 Corvette wheels.
"Corvette owners are performance fanatics," commented Cray Wheels President Terence Scheckter. "That's why we've gone to such great lengths to precision engineer Cray wheels, then perfect manufacturing processes that enable us to hold very tight tolerances, while achieving a unique combination of high strength and light weight," Scheckter added.
Cray Wheels, which manufactures only Corvette wheels, offers two highly attractive styles of custom Corvette wheels, named Scorpion wheels and Manta wheels. Cray Corvette rims are available in Classic Chrome finish as well as in painted Gloss Black or Hyper Silver finishes with a Mirror Cut Lip . These wheels are exclusively designed for Corvettes and are available in 17, 18, 19 and 20-inch diameters. While Corvettes shod in 17-inch wheels require 9-inch widths front and back, Corvettes with larger wheels typically have rear wheels 1.5 inches wider than front wheels. This staggered footprint, as it is called, gives the rear drive wheels more rubber on the road, resulting in better traction and a more aggressive stance. Cray engineers have designed into Scorpion and Manta wheels the Corvette's unique combination of wheel offset and backspace. Wheel offset on Corvettes is expressed as positive 50mm (front) and positive 65mm (rear), meaning the wheel centerline is offset away from the axle by that distance, providing a wider stance. Backspace measures how far the wheel intrudes into the wheel well towards the axle, and is important to ensure that there is no interference with suspension trailing arms or other mechanical systems.
Cray Wheels for Corvettes are designed to accept the original equipment wheel center logo cap, and accommodate factory tire pressure monitoring systems. All Cray wheels are hub centric, which ensures that they fit precisely over the center flange of the brake rotor so that the wheel is concentric with the wheel bearings for a truer, better balanced wheel/tire assembly and a smoother ride.
What will Cray Scorpion and Manta wheels look like on your Corvette? Corvette owners can get a sneak peek using Cray's online configurator, which provides a visual platform to select year, model and color Corvette, then "try on" various Cray wheels and finishes. View the configurator at http://www.craywheels.com/iconfigurators/. An online application guide, at http://www.craywheels.com/app_guide/index.php, enables Corvette owners to see all the various wheel sizes, finishes and specifications, of both Scorpion and Manta wheel lines.
Prices of Cray Wheels for Corvettes range from $300- $650. Cray wheels and are available at all better automotive tire and wheel dealers. For a dealer near you, call 1 888 766 7775 or visit Cray Wheels at http://www.craywheels.com. Cray Corvette dealers are located throughout North America and worldwide, including Discount Tire Direct at discounttiredirect.com.